I thought it would be interesting to build a visual representation of the Time Table for The Daily Effort and share it.
—
The mixed train starts its journey in Hamilton in the morning on the schedule of M233 – a Second Class Train. It heads to Simcoe, then to Port Rowan, with scheduled stops as follows:
(Read DOWN)

When it's time to leave Port Rowan, the train assumes the schedule of M238, with scheduled stops shown below (and note it only travels to Simcoe at this point):
(Read UP)

At Simcoe, The Daily Effort then assumes schedule M236 for the trip to Port Dover:
(Read DOWN)

The return from Port Dover to Simcoe is run on schedule M235:
(Read UP)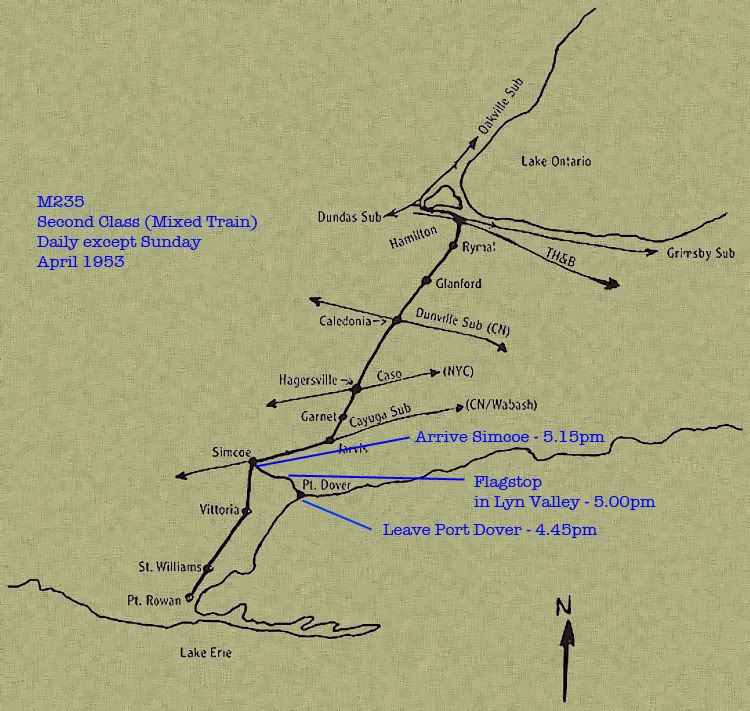 At Simcoe, the train once again assumes the schedule of M238 for the return to Hamilton, and is scheduled to arrive in the evening:
(Read UP)

Along the way, it has travelled on three subdivisions – the Hagersville, the Caledonia, and the Simcoe.