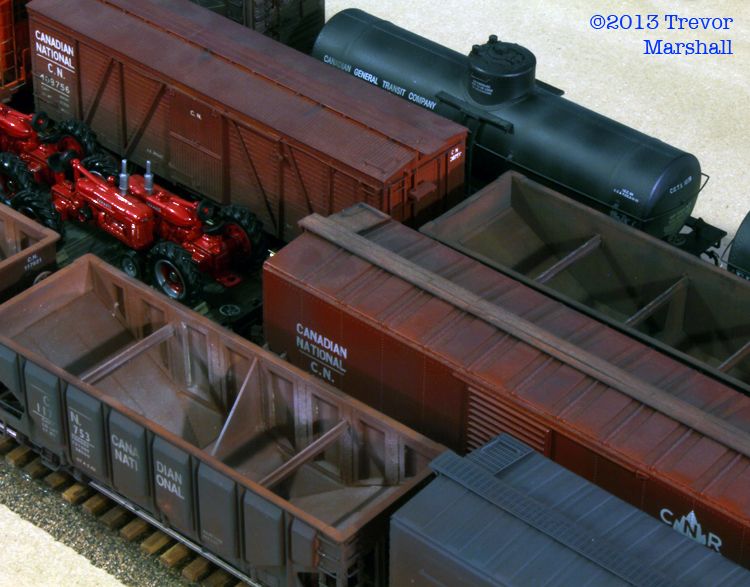 A reader wrote this week to ask a question about my freight car mix. It's a good question, so I thought I'd share the answer here as well as responding directly.
The reader commented…
Do you plan to deploy more CNR box cars in due course? The overriding impression from the photos in Ian Wilson's books of Allendale and Palmerston is that the great majority of freight cars were box cars, and almost all of those were plain ol' CNR (probably about half-and-half AAR steel (PRS) and single-sheathed (Ridgehill/scratchbuild) by the mid-fifties). Are you sure about that yellow TH&B one (there were only ever two of their USRA ones that colour) and the ATSF rebuilt car must be a bit a stretch for a southern Ontario branch line by that time…
Those are very good observations. (Thanks for taking the time to write!)
Yes, I'm planning on adding more CNR boxcars. In fact, I have five or six kits from Pacific Rail Shops, and at least one other Ridgehill kit for a Fowler car in my collection.
But, they're kits. The Fowlers are resin, so a fair bit of work. The PRS are injection moulded, but need modification to better represent CNR prototypes. In addition, I want to model a variety of CNR cars, which will require kitbashing the PRS cars.

I have started a CNR double-door boxcar, which I've written about on this blog. But the project is stalled until I find the time to build some new doors:

My goal is to have CNR represent 80 percent of the cars on the layout, at any one time. The off-road cars will make rare appearances – maybe one on the layout at any time – to add a bit of variety.
Yes, the TH&B yellow double-sheathed car and the ATSF boxcar are a bit of a stretch. But not as much as the Central of Georgia ventilated car or the B&O wagon-top covered hopper!
Having said all of that, my focus right now is on the layout – not equipment. So I have a number of ready to run cars (like the boxcars mentioned above) that give me sufficient rolling stock to run trains. At some point I'll turn my attention to the PRS kits and get another half-dozen CNR boxcars on the layout. It'll make a big difference!