I get a lot of positive comments on my scenery (thank you!). I hope I'm inspiring others to improve their scenery techniques. (And yes: I'm still working to improve my own.)

One of the layouts that inspired me – although I've never seen it in person – is the HO scale Erie Railroad built by Ron King.
There's a fairly extensive tour of his layout in the January 2007 issue of Railmodel Journal (archived online at Trainlife). Click on the cover to read the article:

But this was not actually the article that spoke to me about scenery. Rather, it was an earlier series by Ron and Ken Osen in the February, March and April issues of Model Railroading magazine that showcased what was, at the time, a pretty radical departure from ground foam and lichen. Again, click on the covers to read the articles on Trainlife.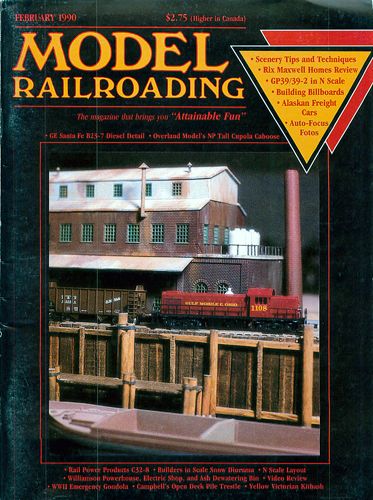 Here's what impressed me:
1 – The use of colour. Granted, the layout is set in the US northeast in the fall, so colour is a given. But autumn-themed layouts were not common in 1990. I remember a few in magazines, but for the most part anybody who had scenery modelled a non-specific green season.
2 – The density, height, footprint and shape of the scenery. Mass plantings of tall, skinny trees look a whole lot better than a scattering of trees that barely reach the top of the trains, and seem arranged as if in a park setting. There are places for that on a layout – a park, for example, or my apple orchards – but left to her own devices Mother Nature competes for space and sunlight, which means lots of slender things trying to grow higher than their neighbours. Also, note the use of tall grasses and bushes along roadways – more effective, I think, than ground foam and why my favourite scenery tool is my static grass applicator. And finally, the contours of the terrain are realistic – no mile-long retaining walls (although there was some of that on the layout originally, as some photos in the articles show) or impossibly steep slopes.
3 – The depth of the scenes. Shelf layouts are great for packing a lot of railroad into a narrow space, but it's difficult to create dramatic scenes on such slices of the scaled-down world. I think shelf layouts are great and I've built a few myself. At just 24″ deep, my station scene at St. Williams represents a shelf layout. But my Port Rowan scene – at 42″ deep – is more impressive. So, if possible, I try to design/build layouts with some depth (while still keeping all track within easy reach of the aisle).
4 – The breathing space allowed in the scenes, and the space devoted to the non-railroad things that surround the railroad. This part of the layout features a partially-concealed turnback curve, and the space inside the curve was put to good use with scenes, such as the road to the station that passes under trees, that draw the viewer into the scene. Again, not everybody has the space to do such scenes, but I think they deliver big payoff if one can include them.
Another example of this depth of field is the farm scene within a turnback curve on Mike Confalone's Allagash Railway:

Today's layout design thinking embraces – or at least is aware of – a lot of this thinking. But it was pretty unorthodox back in 1990. I'm glad I picked up those issues, 23 years ago… and glad TrainLife has them online today for others to read!