Last week I ordered a pair of Dream Player Pro starter kits from Pricom Design. They arrived this week.
These are professional-quality audio players used not only for model railways but also for exhibits such as museum dioramas. They can be programmed to run multiple tracks at the same time, and each track's behaviour can be controlled. So, for instance, some tracks can run continuously (in loop mode), while others can be controlled via a trigger – a push-button, a motion detector, or another method. It's even possible to use the accessory outputs on a DCC decoder to trigger sounds.
I installed my two boards under the layout on a scrap of 3/4″ plywood. As I do with all under-layout electronics, I added a "drip shield" made from masonite so that anything that dribbles through the terrain (e.g.: glue from ballasting) won't land on the electronics: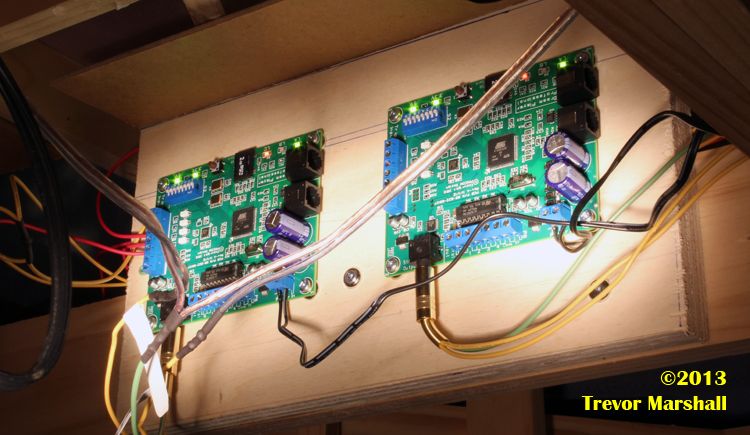 I have another mount and drip shield already mounted nearby for two more Dream Players.
Each Dream Player is powered from a wall-wart (included in the starter set). I had some speakers that I used on a previous layout that do not have built-in amps, but Pricom's instructions note that these boards can drive unpowered speakers – they will just be at low volume, like listening to headphones. I was looking for background sound and a test proved that my speakers provided plenty of noise for what I had in mind, so I went with them. Otherwise, my local computer shop has a good selection of small desktop speakers, and any of them would've worked fine.
My speakers came already mounted in enclosures with handy mounting holes. It was a simple matter to decide where I wanted them to be, then screw them to the benchwork near the front fascia. Here's a speaker for the Lynn River near the water tank and steel girder bridge – it's aimed straight down and is just a few inches in from the curved fascia:

(More about the two buttons in a minute.)
I built my own soundtracks. I have a mixing board and a pile of digital sound editing programs from my work on The Model Railway Show, so this was easy enough to do. (Those who prefer to let others do the audio engineering might consider contacting Jim Wells at Fantasonics Engineering. It was through Jim that I learned about Pricom.) When one's audio is mixed and saved as a WAV file, one loads the finished tracks (plus a configuration file that tells the Dream Player what to do with them) onto a micro SD card. These are used in digital cameras and recorders, and are a handy way to get the audio onto the Dream Player since they just click into place. (Rather than record directly through the Dream Player, I visited my local Vistek and picked up an inexpensive multi-format card reader by Delkin.)
In the layout room, I installed two speakers for each board:
The first board delivers audio for the meadow in Port Rowan – with the right-channel speaker located near the depot and the left channel speaker just to the left of the apple orchard. Sounds on this board include redwing black birds, house sparrows, blue jays and cicadas. I adjusted the balance and volume of each of these sounds when building my tracks so that different sounds are emphasized depending on where one is standing. For example, the blue jays appear mostly in the left channel, while the redwing black birds are mostly in the right.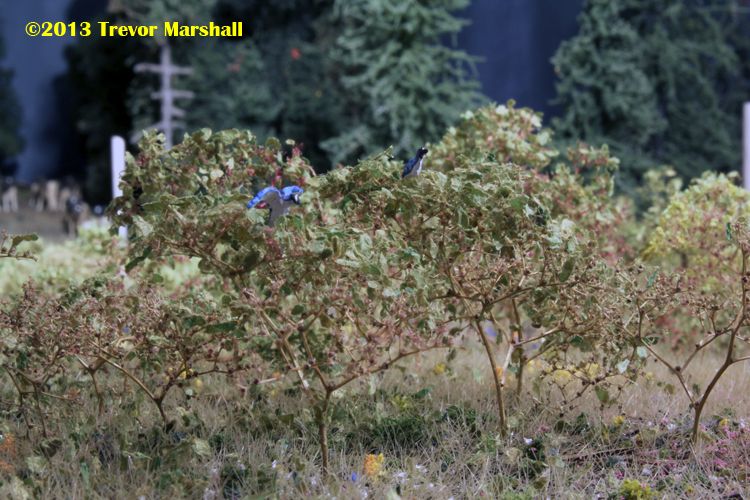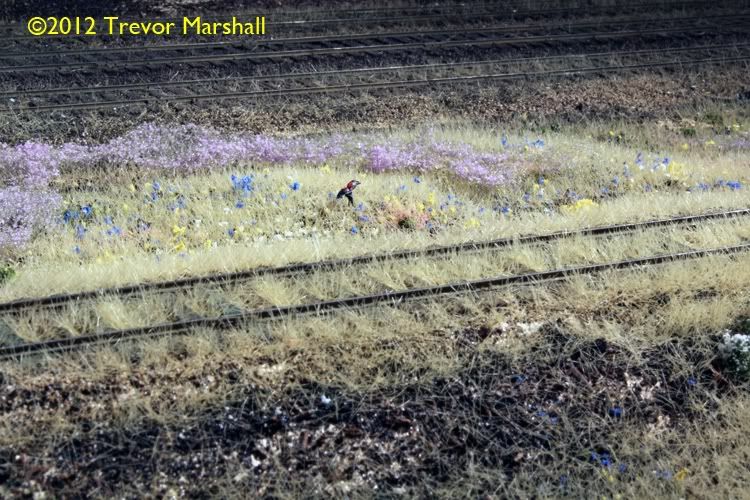 The second board delivers audio for the Lynn Valley – with the right-channel speaker located under the Lynn River at the steel girder bridge, and the left-channel speaker located in front of the trestle. Sounds on this board include cattle (right channel), swans (left channel), cardinals and crows. And, of course, the sound of the river – which turned out to be the hardest thing to mix properly, but through several rounds of trial and error I was able to come up with something that can be heard while standing in the Lynn Valley, but not so much when elsewhere in the room.
The key, I think, is to not overdo it – keep the sounds low, and of a background variety such as bird calls. I don't want the layout ending up cartoony – full of sounds of busy town sounds or Ol' MacDonald's Farm ("with an oink oink here, and a moo moo there…")
Now, about those buttons:
On the Dream Player Pro that feeds the Lynn Valley area, I added the occasional "moo" and "honk" from cows and swans. But only very occasional – perhaps two or three sequences in 10 minutes. However, I also wanted visitors to be able to hear cows/swans on demand, so I created separate audio tracks and assigned them to trigger when the buttons are pushed. The two buttons in the above image trigger two different cow sound effects: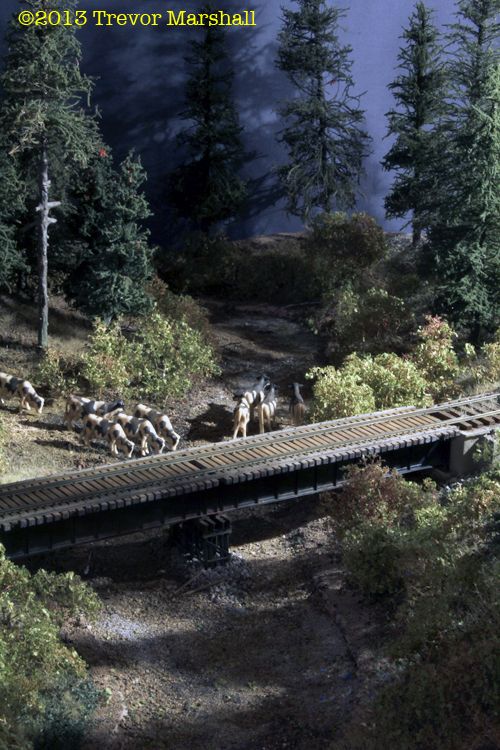 A button near the trestle triggers the swans:

I am thinking about suitable triggers for the meadow – but I'm in no rush. Meantime, I'm also thinking about bird calls and other ambient sounds I want to add in the St. Williams area.
St. Williams will require at least one more board – but I'm so impressed by the Dream Player Pro that I've already ordered two more. The first board will give me two channels in St. Williams – probably located at either end of the run-around track. The second board gives me flexibility to add two more channels – perhaps at the road crossing in St. Williams, and on Bay Street in Port Rowan.
I can think about this while I'm waiting for the next order of Dream Players to arrive!