A while ago, I wrote about the possibility of using S Helper Service single sheathed boxcars as stand-in models for CNR cars in the 461000-463999 series:


(Click on the image to read that post, which includes more background on the project)
Well, over the past week or so, I did minor modifications to three such models in my possession, followed by a quick paint and lettering job. The result is three new home-road house cars for my layout:

The modifications were straightforward. I stared by adding styrene ribs to the centre of each panel to create the Hutchins Dry Lading Roof: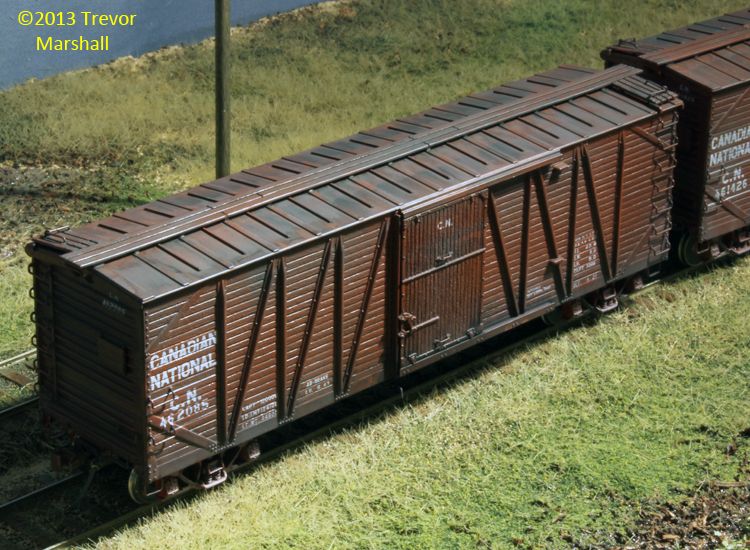 This is the most visible of the modifications, since roofs are what we see when we're operating on a layout.
But I also recognized that a key feature of these cars is the fish-belly frame sills. The models, as purchased, did not have these. I fixed that with some styrene strip, measuring off another S scale car that does have a fish belly. The great thing is, the new sills would be painted black and be, well, underneath the cars – so I was more concerned with getting the silhouette right than with counting the rivets. I used a nibbling tool to cut notches to fit around the existing brake rigging, glued the new sills in place, and after a coat of paint, they provide the correct profile when viewing the cars at track level:

(While working on the frames, I also cut away the cast-on stirrup steps and replaced them with brass bar, which I bent using a Grab-Handler from Mission Models – a great tool, by the way!)
I'm pleased with how this project turned out. The three cars were quick to modify and I was able to obtain appropriate lettering from the Black Cat Decals line. While some discrepancies remain between model and prototype, they're minor and I can live with them – especially since I now have three more CNR cars on the layout. Already, they've made operating sessions more challenging since I cannot simply remember that "the Maine Central boxcar goes to the mill" – I have to pay more attention to the reporting marks.
These cars are a compromise – but a reasonable one. That's S for you…