I felt like doing a structure yesterday, so I built the small "barn" that sat next to the team track in Port Rowan. I know very little about this barn, and only have one photo of it – in the background at right in this image (with thanks, again, to Keith Sirman for the scan from his collection):

The CNR track diagram describes it as a 21.5′ by 20′ frame shed:

Since it's near the back of the scene, I didn't need to worry about doing an interior. Therefore, for the four walls I stained scale wood of various widths, chopped a bunch to length, and laminated the strips over black styrene sheet. I braced the finished walls with more styrene inside.
Four styrene panels formed a sub roof. I framed these with wood strips to simulate the boards under the roof covering.
I don't have a good picture of the roof of this structure, but I decided a corrugated roof would look nice – and I had a package of corrugated metal from Builders In Scale in stock (Part 839, if you're interested). I cut this into 26″ wide strips as recommended in the directions, and glued the panels in place with thick CA. The weathering was applied later – using weathering powders to create that rusted out look that are de rigeur on old corrugated roofs.

I took a magnifying glass to the prototype photo to try to discern details on the shed, and what really showed up under magnification was a canvas tarp covering part of the end. I assume it serves as a door, since the photo shows a horizontal bar like a track directly above it. Perhaps there was a sliding door at one point, but by the 1950s this had been replaced with the tarp. Regardless, it's a neat feature so that's how I modelled my barn. For the tarp, I cut a piece of kleenex oversize with scissors, lay it on a piece of wax paper, and carefully brushed it with acrylic paints. I then left it to dry. Several hours later, I was able to carefully peel the kleenex off the wax paper, then trim it to final size with a fresh blade. It's naturally wrinkled, and adds a different colour/texture to the finished structure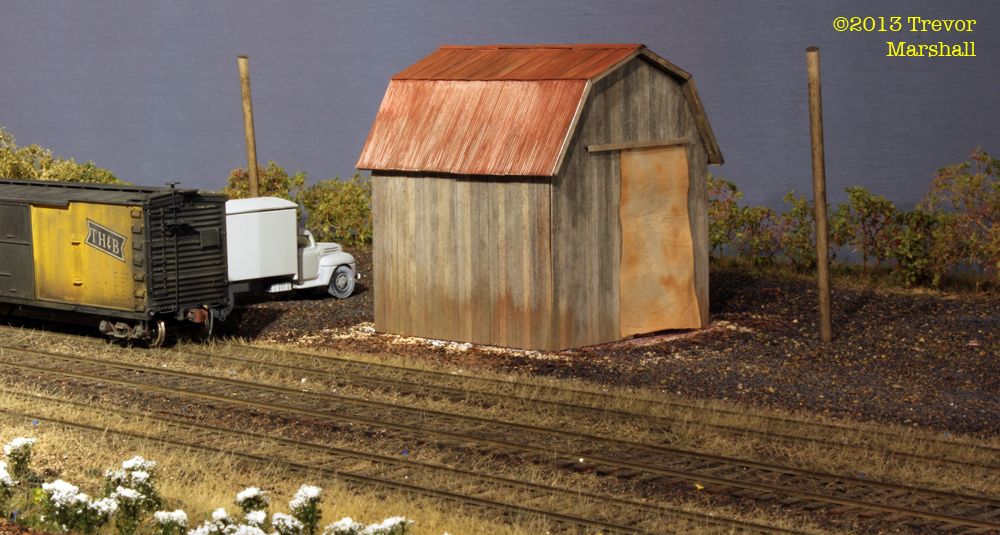 Not all of my structures will come together in a single day, but it's great to have this one done. Next time I'm doing scenery I'll work on the ground around the base of this barn. Meantime, onto another structure for Port Rowan!