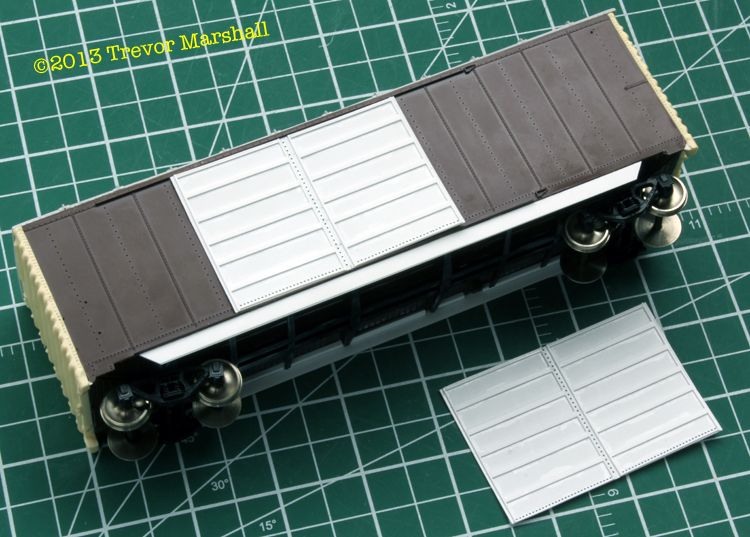 I've been making lots of progress over the past couple of weeks – including on my CNR double-door boxcar project. As the photo shows, I've started working on the Superior Six Panel Doors. I'm scratch-building these from styrene sheet and strip, with rivets from Archer Transfers. This is my first experience with Archer's product and I'm really, really impressed. (I ordered directly from Archer and service was excellent, too – so check them out. Archer offers four sizes/styles of rivets for S scalers – I bought one sheet of each.)
The doors are ready for detailing – tack boards, latching mechanisms, etc. I'll do this work before gluing them in place.
As the photo also shows, I've replaced the side sills on my PRS donor car with longer sills made from styrene strip. I will add appropriate rivets to the sills – again using Archer's product.
This has turned into quite a project, which prompts two observations:
1 – I'm glad I only want / need to do one of these cars for my layout!

2 – I expect the S scale resin kit to appear about one week after I finish my model – because that's how it works!
On the subject of boxcar surgery, my friend Andy Malette points out that I should carve away the lower side extensions and the poling pockets in the corners. That'll be a bigger job so I'll decide whether I can do that neatly enough to be happy with the end result. And, before I install the doors, I will have to extend the upper and lower tracks to accommodate these monster doors: There's no point in having a 15-foot opening if the doors can't be slid all the way out of the way, right?
At that point, this will become a "normal" kit again – with the surgery giving away to the usual process of adding details such as ladders, roof walks, brake rigging and so on. I'm looking forward to the return to normalcy!