This week's mail brought a copy of The 1798 Backus Mills of Long Point, a 158-page book self-published in 1977 by Donald A Buscombe of Port Dover.

I grabbed a copy for $15 via the Advanced Book Exchange, thanks to an alert by regular reader Mike Livingston that it included a photo of the (railroad East) side of the shed that stands next to the team track in Port Rowan. I recently completed my model of this shed – which I call The Barn, because of its roofline – and wrote about it on the blog:


(Click on the image to read more about the model)
Backus is an important name in Port Rowan / Long Point history, owning sawmills and grist mills in the area. The family's legacy includes a heritage conservation area anchored by the the grist mill shown below, which was built in 1798: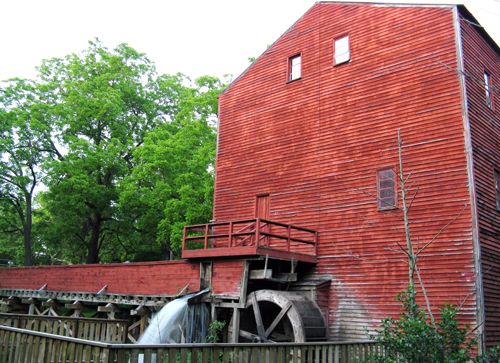 (Click on the image to visit the Backus Heritage Conservation Area online)
Ironically, the Barn has nothing to do with Backus – at least, not that I know of. But it appears in the book, in a photo taken in the 1920s of a young member of the Backus family standing on a flat car spotted at the team track. The flat car is loaded with 16-inch squared white oak timbers being shipped out for use in building the gates for the locks on the Welland Canal. According to the caption, the Backus family also supplied all the ties for the line from Port Rowan to Simcoe – some 30,000 in total.
With this detailed look at the family's grist mills and sawmills in the area, I'm certain that I will find additional information in this book that will help me model the traffic carried on the Port Rowan branch. (Thanks for the lead, Mike!)
Meanwhile, the photo of the Barn shows what I believe is a vent near the top of the peaked end wall. I'll assume that there's a vent on the opposite side as well. I will have to build a pair of vents and add them to my model – easy enough to do, as they can sit right on top of the existing siding. Off to the workbench – stay tuned for an update!