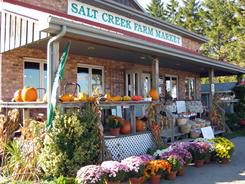 When it's open (April 15 to December 24) I try to stop at Salt Creek Farm Market on the way home from visiting Pierre Oliver. It's on the main route from his house in St. Thomas to Highway 401 in London, and it's a treasure trove of fresh and pickled produce.
On last week's trip to Pierre's place, I stopped in and scored fresh Ontario asparagus, strawberries and cherries. I also picked up a hot salsa and pickled beets – plus a block of cheddar from Jensen Cheese, which has two locations in Ontario – one in Simcoe (the first major railroad yard up the line from Port Rowan) and the other in Wilton (where, earlier this year, I acquired my baggage wagon).
My wife is always pleased when I come home with goodies from the Salt Creek Farm Market and the produce often contributes to our dinner when I get home from Pierre's. So, that's another great reason to stop in.
If you're in the area, I recommend that you drop in. Click on the image at the top of this post to visit the market online.