When the weather is lovely – as it is today where I live – I prefer to not spend all my free time in the train room. Or, really, any of it. I know a lot of people who agree, and put their hobby on hold for the summer.
But, I find working on a project really helps when I'm thinking about a work assignment. It uses a different part of the brain than the part that worries about work, I guess, and that helps the work worrying centres to unwind enough that useful work eventually gets done.
Recently, I've been sharing reports via the blog on two smaller structures that I've been working on for the layout – the barn beside the Port Rowan team track, and the Port Rowan section house: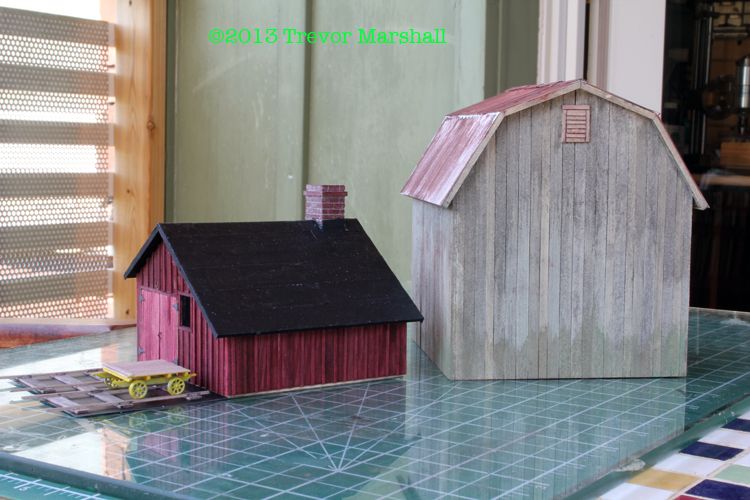 Sharp-eyed readers will note that I've added the louvred vents to the team track barn (although they need more weathering). I've also added handcar set offs in front of the section house, and built an MoW trailer with parts from a Wiseman Model Services kit. (More on that in a future post.)
What I haven't shared previously is where I've done all this work – namely, on a second-floor deck off my home office:

That's one of my two border collies peeking through the antique folding rocker. The two tiled side tables live outdoors year-round, and give me the requisite two square feet of workbench. My toolbox and materials sit on the floor. The gaps in the boards are great for sweeping away little bits of wood and styrene. They'll also swallow tools or materials if I'm not careful – so I do my best to be careful. So far, that hasn't been a problem – not too often, anyway…
With my office right next door, I can also nip in to make notes on work projects as the inspiration hits.