Thanks to Steve Lucas, I now have some interesting documents to share about the Port Rowan branch. These are orders from the Board of Transport Commissioners for Canada. Copies of the orders, with my observations, follow in chronological order. Click on each for a larger view in a new window/tab…
Order 58488 – January 8, 1940:
Order 58489 – January 8, 1940:
These two orders give the railway permission to close the stations at Forestville (spelled incorrectly in the order) and Walsh. By the earliest era that I model – 1953 – these locations don't even show up as mile posts on the employee time table. The railway used to haul loads of saplings from a tree farm in Forestville. (UPDATE: I'm in error on this – it was an Ontario Government Forestry Station that shipped saplings out of St. Williams. Thanks to regular reader Monte Reeves for catching that!)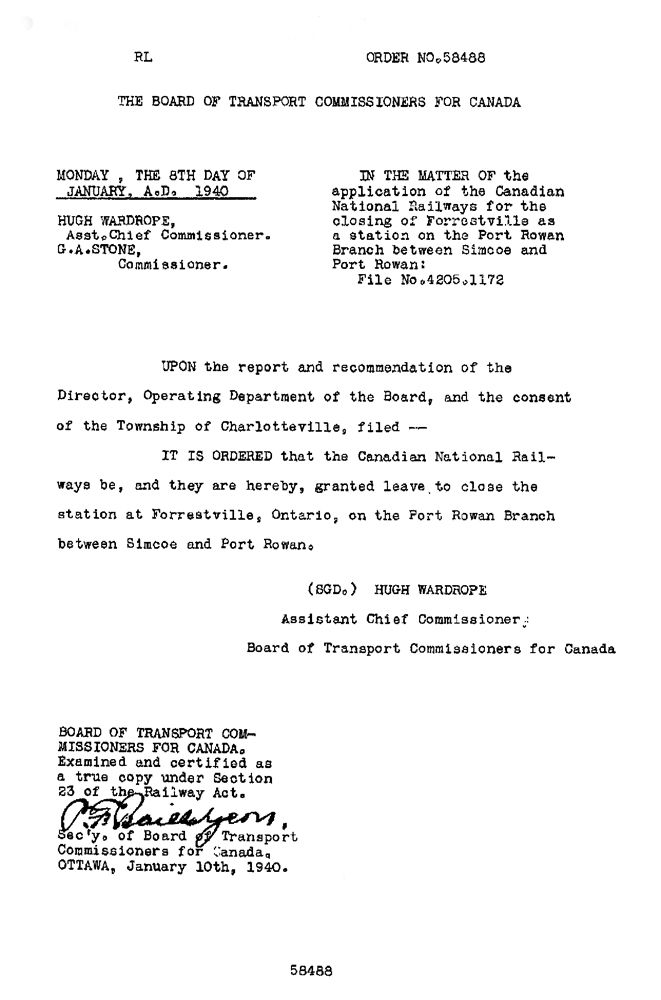 Order 59419 – July 20, 1940:
This order approved the railway's plans for a shelter at St. Williams. I'm intrigued by two things about this. First, that it was referred to as a "shelter" and not a "station". Second, that a plan was filed with the board (File 42628) that details the shelter and its location. I would love to find a copy of that file!

Order 108375 – July 13, 1962:
This order gives the railway leave to remove the station agent at St. Williams. It therefore confirms that a station agent was on duty at St. Williams until five years past the latest era that I model – 1957. It also confirms that there was express service to St. Williams – since the board has ordered the railway to continue to provide such service after removing the station agent.

Order 115721 – October 20, 1964:
This order – a two pager – is the saddest order a community can receive. Here, the board has granted the railway leave to abandon the entire line from Port Rowan to Simcoe. As the order infers, the Port Rowan community and some shippers (both at the yard and in the town) were against the abandonment and were to be notified by the railway of the date that service would cease – presumably so they could make other plans.