(The Daily Effort at Hagersville, Ontario – June 20, 1953. Photo via the Henley's Hamilton blog. Click on the image to visit that blog and read more about the mixed train from Hamilton to Port Rowan and Port Dover)
The Daily Effort to Port Rowan that I model on my layout is a mixed train. Such trains are interesting for many reasons. They haul carload freight, but as a passenger train they also have a schedule to keep. That schedule can be quite relaxed – more of an ideal than reality – and one consequence of this is that running a mixed train on a model railway often feels similar to running a local freight, but with one or more passenger cars tacked on the end of the train where the caboose should be.
Since operating sessions on my layout involve just one train at a time, I'm always on the lookout for ways to duplicate the activity of a real crew. I often run "two days", back to back, in a single session – with a freight extra run one day and a mixed train run the other. I'm therefore also keen to find ways to differentiate between the two experiences. When I run M233 to Port Rowan, I want it to feel unique – not like Extra 80 West.
One way to do this is to represent the express and merchandise carried by mixed trains, in baggage compartments or separate boxcars. In addition to a few full cars of freight, mixed trains carried less than carload lots – otherwise known as LCL. Railway LCL was the precursor to today's logistics companies – think Fedex, UPS, DHL, TNT and so on.
If you think about how such services are used today, it's easy to see how LCL service made railways a vital link for the citizens in the communities they served. Back in the day, people in Southern Ontario might place an order the catalogue operation run by the T Eaton Company and have anything and everything from hardware to housewares delivered via rail to their local station for pick-up. Stores and other businesses would place orders with suppliers and their products would also arrive via rail – everything from cases of canned goods to stock the grocery store shelves, to a load of furniture for the local department store.
The challenge is, how to model this in a meaningful way. Currently during operating sessions, station stops are made in both directions at St. Williams to allow for the exchange of passengers, express and merchandise. In addition, after M233 arrives in Port Rowan and is ready to begin its switching, one of the tasks is to spot the passenger equipment (baggage-mail car and combine) plus the boxcar working in LCL service in front of the station. This is to be done as early as possible so that unloading and reloading may take place while other, carload freight cars are being worked.
But I suspect the importance of the work on the "passenger" side of the equation fades into the background as crews – myself included – focus on reading freight car waybills, drafting switch lists, and figuring out the moves needed to spot and lift cars. As I've already noted, that can make the mixed feel like a freight extra.
Fortunately, my friend David Woodhead has come to the rescue. During a recent visit, David loaned me an interesting book: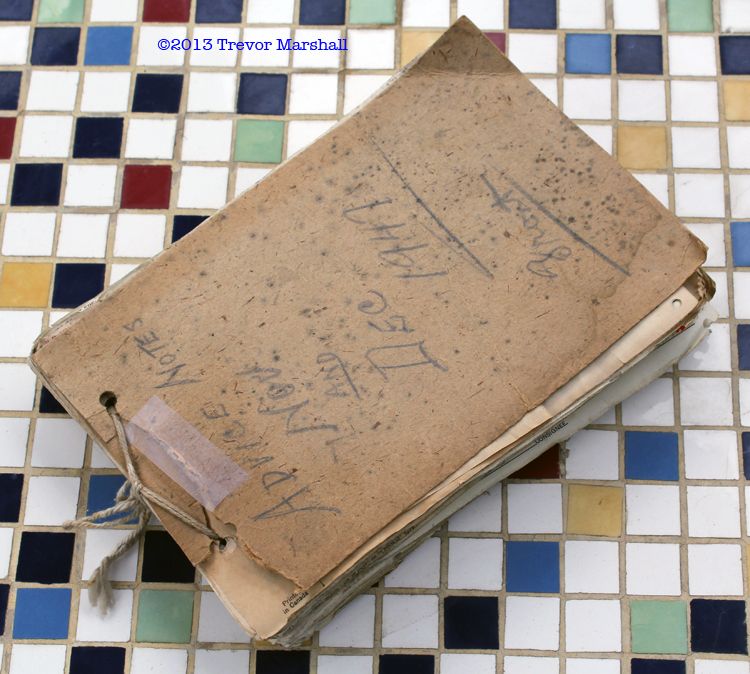 This book consists of CNR freight receipts covering a couple of months in 1947, in the Maynooth area of Ontario. Here's a sample freight receipt, which shows that on November 14th the railway delivered one bicycle from Kingston to Hybla, Ontario: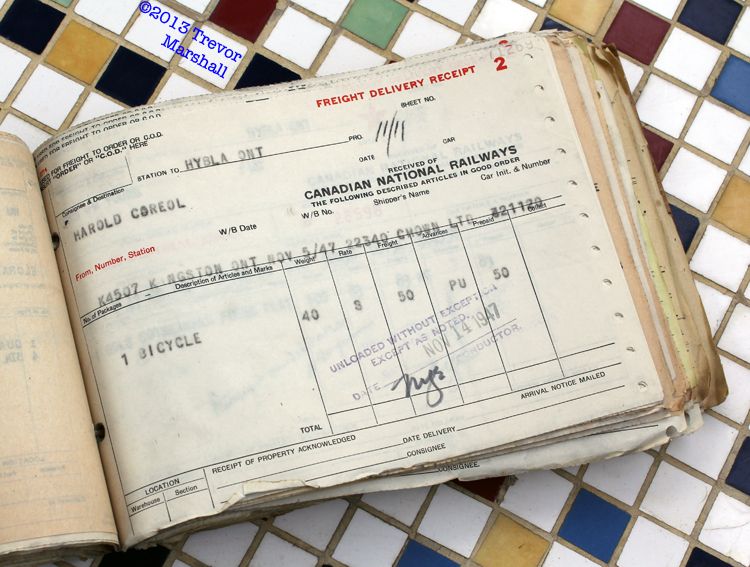 I was able to scan a relatively clean receipt from the book, clean it up further, and create a blank form. I resized this to 4″ wide (by about 3″ tall) so I can put four of them on a single page for printing.
I then set up the book on a table in good light and shot more than 350 photographs, capturing most of the pages (some were too faint to read so I ignored those). I'm using this information as a guide to filling out my own freight receipts, such as the two shown here:

Obviously, the receipts for Maynooth and area will be somewhat different than those for freight delivered on my line. But it's easy enough to pick through the prototype paperwork and adapt it to my own needs.
I start with the names. To add local flavour I can use names listed in Down By The Bay, a book about the history of Port Rowan. I can also acknowledge people who have helped me with prototype information or with building the layout by making them customers of the railway. In the upper right, a "C Abbott" in Port Rowan is receiving a shipment. C Abbott is of course my friend Chris Abbott.
Chris' shipment is coming from a real company – Garland & Son Ltd of Ottawa – which was listed on one of the prototype forms. That form also provided the description of the freight.
In the lower left of the above photo is a shipment to St. Williams. Here, I used information from a shipment of seed to Maynooth to create a fictitious load – 14 bags of tobacco seed from the Tobacco Board in Delhi. The weight, rate, and other information came from a real form for a seed shipment.
Note that both of these forms are for CN 481536 – a steel boxcar that I often run in LCL service on the mixed trains. I'm developing stacks of cards for at least one other CNR boxcar, as well as for my two combines. (I plan to introduce these receipts gradually to the layout, so I'll fill out the forms as time permits.)
I am still developing my ideas about how these will be used in operating sessions, but here are some thoughts:
1 – As with the waybills and empty car bills I use for car forwarding, these receipts will be part of the paperwork packet that the conductor handles. The conductor will leave receipts at stations (in the waybill boxes at St. Williams and Port Rowan) as goods are unloaded.

2 – I will make up some waybills to cover LCL shipments from St. Williams and Port Rowan to the rest of the world. I can do this by modifying appropriate shipments in the prototype book.

3 – I will develop a set of rules about how to use the number of items on a waybill, the weight, or a combination of both to determine how much time it takes to unload or load the LCL. For example, it might take 30 seconds for the crew to transfer a 100 lb bag of seed from boxcar to baggage wagon. So, maybe 30 seconds per 100 lbs of LCL is appropriate. The conductor will then calculate how much time must be spent at the station stop to perform the work. I have fast clocks, so this can be measured.

4 – I noticed several receipts marked "Fragile" – including at least one receipt for an organ and chair (at 300 lbs). Goods listed on receipts marked Fragile may take longer to transfer.

5 – Depending on where the LCL is located in the train, the conductor may order that cars be repositioned to assist with unloading or loading. For example, M233 may stop at St. Williams with the LCL boxcar lined up at the platform to unload, then pull forward to make it easier to unload the combine onto the same baggage wagon. That adds an extra move to the operation.

6 – Some of the prototype freight receipts are addressed to the section foreman, and cover articles such as spikes, paint, and tools and the like. These receipts are marked "OCS" (On Company Service) in "freight" or "advances" column. Since I have a section house in Port Rowan, I could require that the LCL boxcar be spotted in front of the section house if there are any OCS shipments to unload. This would be in addition to any LCL that must be unloaded / loaded at the station.

7 – While not related to LCL, I imagine that the system I develop can also be used to help represent the passenger traffic on the branch. (There won't be much of it, but collecting tickets – and perhaps pausing a little longer to help an elderly passenger off the train – will help breathe life into the operation.)
I will continue to think on this, and develop my ideas through tests during operating sessions. The important thing, for me, is that I have a record of the data so I can create freight receipts – and that looking at this very neat record of mid-20th Century life in a small section of eastern Ontario is giving me ideas to help enrich the operation of The Daily Effort to Port Rowan.
Thanks, David, for the loan of this book. What a great find!
—
UPDATE – July 13, 2013: I've just discovered the existence of the LCL_Ops_Modeling Yahoo Group. Membership is required to view the posts, so I can't offer any more information about what one will find there, but I've applied for membership. If you're interested in LCL operations, you might also want to give the group a look.
UPDATE – July 23, 2013: A friend reminded me that Ian Wilson wrote a useful article on LCL operations on the CNR out of Palmerston, Ontario, which appeared in the July 1997 issue of Railroad Model Craftsman magazine. It's definitely worth revisiting if you're interested in representing this style of traffic on your layout.