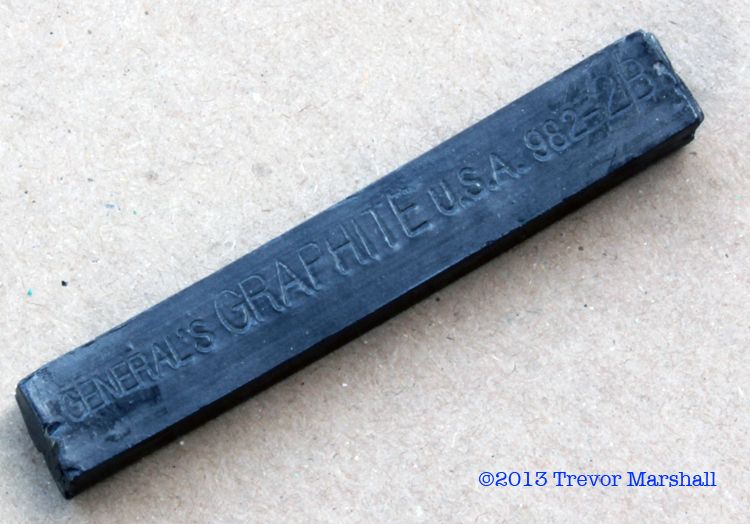 There's no question: Model railways are only fun if the trains run – and run reliably. And unless one is using a battery-power system, reliable running depends on excellent electrical contact between rails and wheels.
Over the years, modellers have tried many things to improve the electrical path – from additional wipers on locomotives, to hair clipper oil, to special circuits designed to burn away non-conductive contaminants. The one that works for me is the above graphite stick (of 2B hardness), purchased from an art supply store more than a decade ago.
I learned about applying graphite to the rails from a local modeller. Brian Fayle is best known in these parts for his figure-painting techniques (which I also use). But while talking at a train show he mentioned that rubbing graphite on the rails improves electrical performance and – since I was working in On2 at the time, and suffering from terrible performance, I decided to give it a try. What a difference! I've been a convert ever since.
After painting the rails, I clean the tops of paint with various tools – anything from a piece of strip wood dipped in thinner to a fine emery board. Then, I simply rub the graphite stick over the top. (Be careful around switch points – you don't want to catch one with the graphite stick and tear it off the head rod.) It can be rubbed flat or used on end: Look at the above photo again and you'll notice a notch at the left end of the stick, which I've worn into the stick while dressing the rails.
And that's it. In seven years of running my On2 layout and more than a year of running trains on Port Rowan, I have never needed to do routine cleaning of track or locomotive wheels. (I do engage in a bit of cleaning after applying scenery in case I get water or glue on the rails – then reapply graphite.) Electrical contact has been super-reliable, and I have not noticed any loss of pulling power as a result of applying graphite. (That said, I run short trains on a layout with no significant grades, and my train room is a relatively clean environment. Your mileage may vary.)
Applying graphite to the rails is a popular solution amongst modellers in the UK. To read more about using graphite and other methods of fighting dirty rails, I recommend a presentation by Mike Walton. He's a member of The Platelayers Society, a local group for fans of UK modelling, and he did an excellent presentation at one of their gatherings. The slides from that presentation are online as a PDF called Go With The Flow.