Here's an operations conundrum:
The picture below shows The Daily Effort heading westbound towards Port Rowan as it makes its station stop at St. Williams:

The train has just arrived. The combine is stopped just clear of Charlotteville Street, lined up in front of the station, so several things can happen. First, passengers can get off or on. Second, express can be loaded/unloaded. And third, the conductor can check with the station agent to see if any freight switching has to be done here. So far, so good.
But look at the boxcars in the train. The one behind the locomotive is a load or empty heading somewhere, so we won't worry about that one for now. But the second boxcar – just in front of the baggage-mail – is in LCL service. (I know this because the paperwork tells me so.) Prototype photographs show that this is how the train was typically configured:
Locomotive — Freight car(s) — LCL boxcar — Baggage-Mail — Combine
The problem – at least, on my layout – is that the platform for the St. Williams station stop will end about where that first line pole is. Basically, across from the RPO section of the Baggage-Mail car. So, how will the agent and crew work the LCL boxcar?
Since this is all Yard Limits territory, the answer is relatively straight forward: After working the combine, the train backs up under flag protection to position the LCL boxcar in front of the station:

The problem arises because Charlotteville Street is a (relatively) busy road, and this backing move blocks traffic:

Presumably, the crew can block the road for a short period of time. Railway rulebooks often have this specified, and it's something like five minutes. That's plenty of time to haul one or two packages out of the LCL boxcar and onto a baggage wagon – providing the packages are easy to locate in the car, easy to release from whatever measures have been taken to secure the load, are light enough to quickly haul to the wagon, and so on. But if there's any significant amount of work, or if the LCL is heavy or awkward, then blocking the crossing would take much longer than is allowed. (And my look at a CNR freight receipt book showed that the many items moved via LCL on the railway included things like rolls of roofing paper, 100 lb bags of seed, mirrors, mattresses, stoves, a piano…)
One answer is to back across the crossing under flag protection, drop the passenger equipment in the clear to the east of Charlotteville Street, then pull forward to spot the LCL boxcar at the station: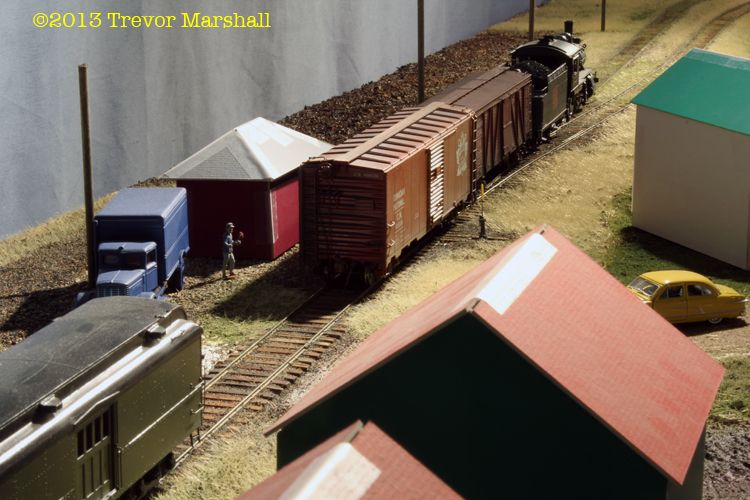 Once the LCL work is done, the crew would have to retrieve its passenger equipment and conduct a brake test before leaving town.
I'm not sure if there was ever a situation on my prototype where this was necessary, but on my layout this is something that will add a unique bit of business for the crew of the mixed train – and that's never a bad thing…