Every layout designed for realistic operating sessions needs to provide conductors with a place to work. On Plywood Pacifics, this is often the layout surface, but that's a really bad idea once scenery is in place.
I realized that there's a lot of material to juggle during a session – including prototype waybills, switch lists and LCL receipts… not to mention, an uncoupling tool and a throttle. I found that I was putting things on a stool that's tucked under the layout when working St. Williams, and using the top of a chest freezer as a desk when working in Port Rowan. Surely, I thought, I can do better: A nice, solid surface that one can use to spread out papers and organize one's work.
But, I also wanted to keep such surfaces out of the aisles when not in use. So yesterday, I built a pair of slide-away work desks – inspired by the slide-away keyboard shelves found at many computer workstations. Here's the desk for St. Williams, in the closed and open positions.
I recently removed a 16″ x 57″ solid wood shelf from elsewhere in the house and it became my donor for the two desks, so each desk is 16″ by 28.5″ (minus a saw kerf). I mounted each shelf on a pair of 20″ under-mount slides I picked up at my local Lee Valley Tools (item 02K33.20):


(A Lee Valley slide mounted under St. Williams)
I like these because they come in different lengths, they're modestly priced, and they have stops to hold the shelf in the closed position so it's not going to roll out by itself when not in use. This is particularly important at Port Rowan, which is in a narrower aisle. Not everybody will be able to use the full depth of the desk – it depends on each operator's, um, "diameter".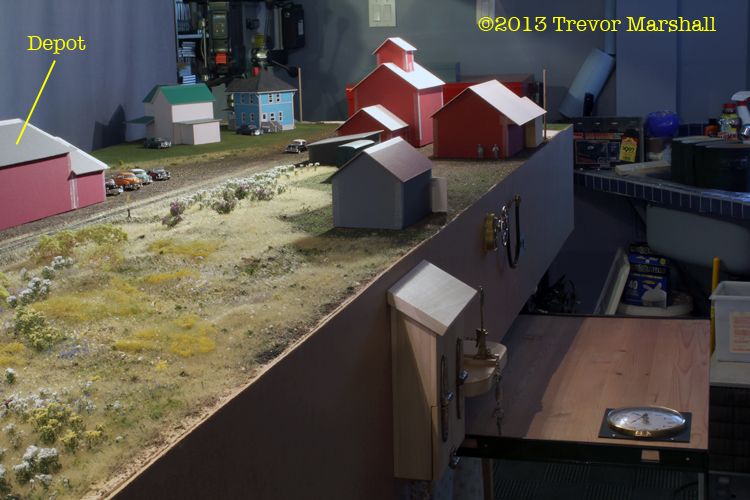 I decided that since each desk is located at a station, it would be an appropriate and convenient place to mount a fast clock, so I next marked out and cut a hole in each shelf to fit a fast clock from GML Enterprises:

The two-wire cable that controls each clock is attached to the underside of the shelf. It runs straight to the back of the shelf, where I've incorporated a loop of slack so the shelf can slide freely: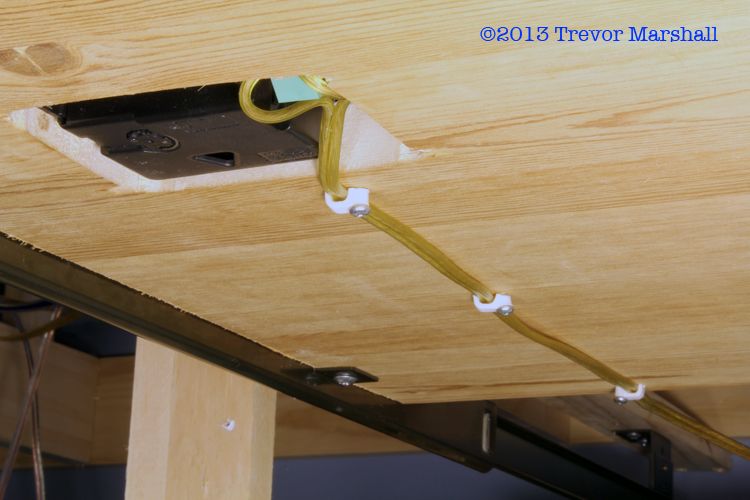 (Clock wiring – shelf in extended position)
I still need to get a pair of desk blotters to give conductors an appropriate surface for writing. But it's already easier to organize the work, which will make operating sessions that much more enjoyable…