I've had a couple of questions about the fast clocks I'm using. The clocks are a system from GML Enterprises: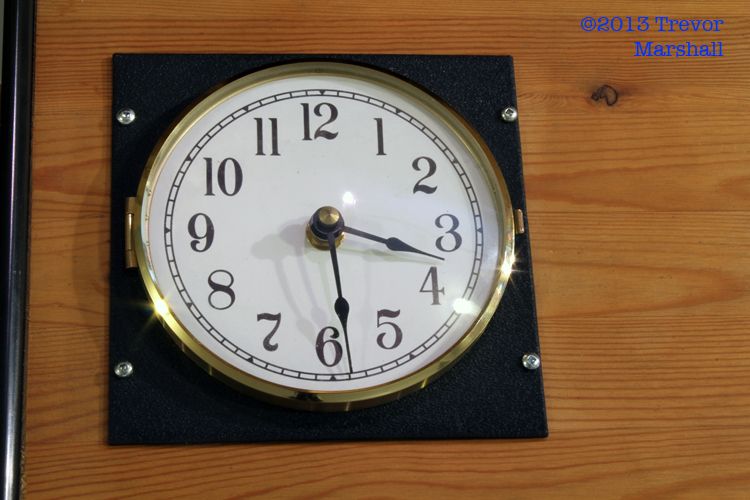 (Click on the clock to visit the GML website)
I bought these about a decade ago for my On2 layout and I'm pleased that they're still available. (In fact, my friend Pierre Oliver recently added a GML system to his HO scale Wabash layout.)
System components are purchased a la carte. Each system requires one Fast Clock Controller (FC-6), which I've mounted at the entrance to the sector plate staging area:


(The plug and sockets to the right allow me to assign power to each staging track individually, and have nothing to do with the fast clock system.)
The controller can synchronize up to 10 fast clocks – from panel-mount clocks like the ones I ordered, up to a wall-mount register clock with pendulum. I like the panel clocks – item CLK-4B/W. They're highly visible, and can be mounted just about anywhere – including, as I've shown, on a slide-out work desk:


(Click on the slide-out work desk to read more about it)
Fast clock system buyers may specify six speed ratios for their clock controller – from 1:1 up to 20:1. I opted for 2:1, 4:1, 6:1, 8:1, 10:1 and 12:1 (although if I was ordering a system today I'd probably scrap the 10:1 and add 3:1 instead).
I am testing the 4:1 ratio for layout operations, so a minute of layout time passes every 15 seconds of real time. So far, it's proven to be the right one – requiring 4 to 5 hours of scale time to run a session. The 12:1 ratio is very handy for confirming that the clock system is working correctly, and for fast forwarding the clocks to a set time if you're only running a partial day. On my layout, I'll reset the clock as appropriate when I'm distributing waybills and LCL freight receipts as part of my pre-operations set-up.
I am very, very pleased with GML's fast clock system. I tested it extensively on my previous layout and it's been very reliable. The system is also easy to wire: I ran two wires from a 9-volt "wall wart" transformer to the controller, and then daisy-chained my two clocks with another pair of wires. I used 22 gauge, two-conductor, heavily-insulated speaker wire for all connections.
My recollection is that service from GML was excellent as well. (Thanks, GML!)
Even though my current layout is based on a one-train-per-day branch line, the clocks add an important element to operations: Time. Railways are governed by time. A clock is an integral part of modelling them realistically. The clocks will be particularly important for correct operation of the mixed train. I will use them not only to govern movements according to the time table, but also to determine the length of station stop required based on the amount of LCL to be unloaded. Plus, it's really nice to run a session and realize four scale hours have passed: It contributes, greatly, to the feeling that real work has been accomplished!
—
While I now have a fast clock system in place, I'm also looking forward to the fast-time pocket watches announced earlier this year by True Line Trains. Click on Speedy, below, for details, and I will post more information on this blog as it becomes available…