(With arms waving, I give David Reilly the guided tour)
Last week, my friend and neighbour David Woodhead emailed to say he had a friend coming to visit his layout – and would they be able to come over to see mine as well? Sure thing!
Like my friend David, David Reilly is also in the music business. My musical talent ends at being an appreciative listener, but I have spent some time in radio broadcasting so we had a lot to talk about on the technical side of audio production. And, of course, we talked trains.
It's always fun showing off the layout – especially to people who are new to or, as in David R's case, returning to the hobby. David obviously has an agile, inquisitive mind and he was very interested in the scenery materials I've been using – from the Noch static grass and the Silflor weeds to the JTT corn, Busch tobacco and the trees I'm twisting from florist wire and covering with flexible modelling paste, following techniques I've learned from books by Gordon Gravett. If you'll pardon the pun, we covered a lot of ground.
In addition, both Davids have fine ears and as I told them, it's always gratifying to have musicians comment favourably on the ambient audio I've added to the layout using Dream Player Pro sound units from Pricom Engineering.
For his part, David W hasn't seen the layout for a few weeks now so it was a chance for him to see, first hand, the progress I've made – including the valance, additional wire tree armatures, the fascia labels, and the St. Williams station with its working train order board. David also took a few pictures which he shared with me, including a couple of very nice close-ups in Port Rowan and St. Williams: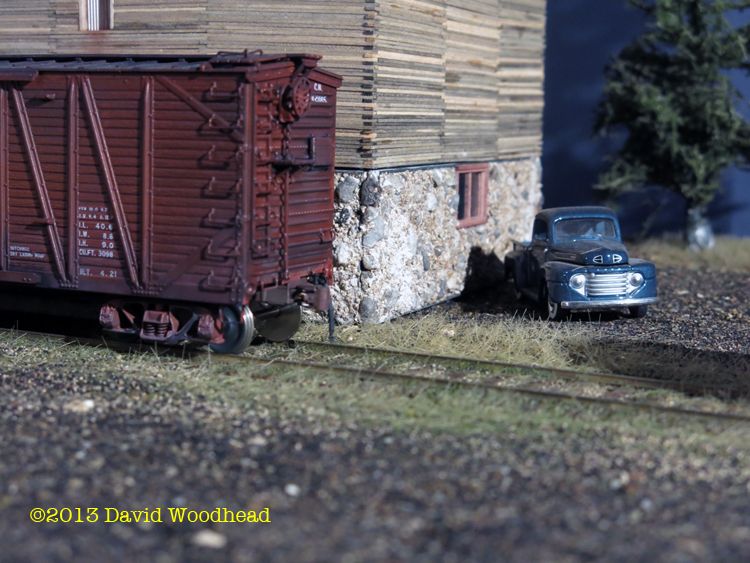 We even arranged to meet for lunch at Harbord House and make an afternoon of it. Problems were solved – including the thorny question of food and drink.
I had a great time, David and David: Let's do it again soon!