My friend Chris Abbott dropped in today and we tackled a couple of projects on the layout. The first was to hook up the control for the order board at St. Williams.
As reported previously, Chris has been working in his machine shop to modify a garden scale, brass ground throw from Sunset Valley Railroad to use as the control for the order board. (I also have another use for these, which I'll detail in a future posting.) He's added a lever belowdecks to allow the ground throw to act on an R/C aircraft control line.
For the St. Williams order board, I decided the best place to install the control was on the slide-out work desk I built for this position. The photo below shows the work desk. The ground throw is in the upper right.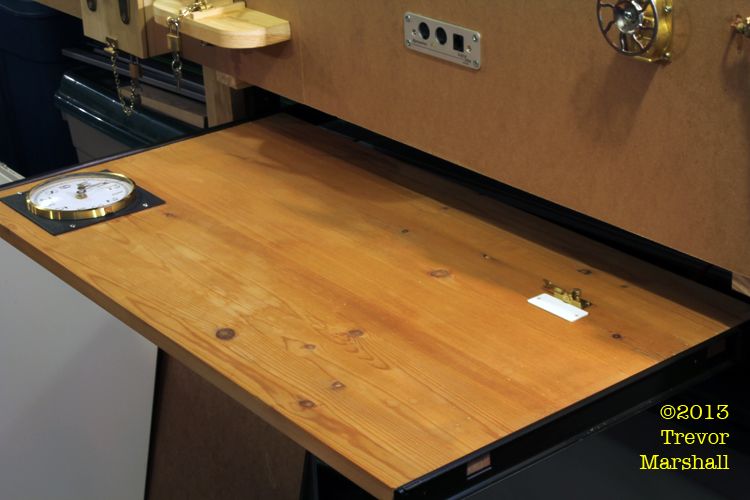 The next photo is a close-up of the control. (I've put a blank plastic label in front of it. It will be replaced, in time, with a label that identifies this control's function.) Click on this control to see another picture, showing the mechanism that's mounted through and below the shelf:

The photo below shows the mechanism from underneath the slide-out shelf. The wooden block holds the red sleeve to the shelf. Chris' awesome lever is connected to a brass-plated steel clevis used in R/C aircraft, which is in turn connected to the yellow push rod.

The operation is simple – one pulls out the drawer (akin to opening the station) and flips the lever to the desired position. (The label, when installed, will indicate "set" and "clear".) The short video below shows the order board in operation. Enjoy if you watch…
Thanks Chris!
—
More to come on today's work session…