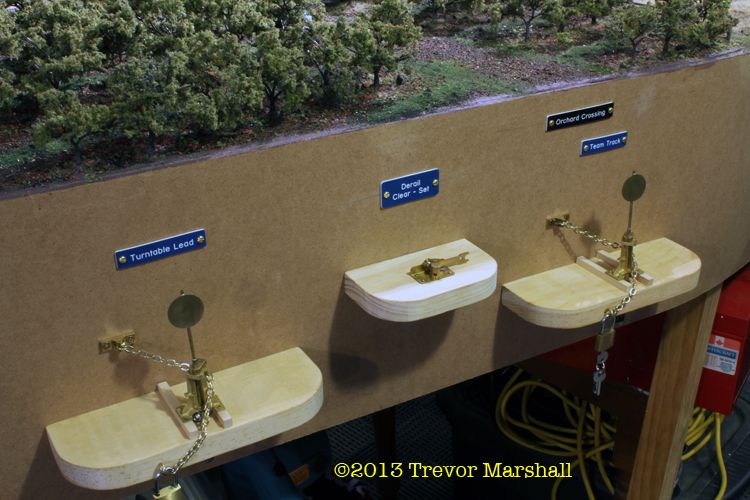 Chris Abbott and I accomplished several things during yesterday's get-together. After installing the control for the train order board at St. Williams (and a fun lunch of burgers and pints of Conductor's Craft at Templeton's in Kensington Market), we tackled the second project for the day – installing the control for the derail on the coal track in Port Rowan.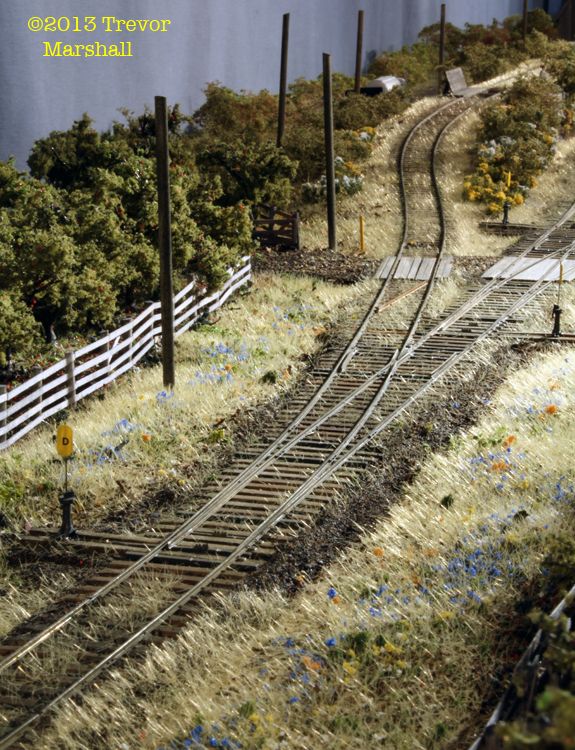 (Click on the image to read all posts about the derail)
We started by creating and mounting a wooden shelf for the control. We then determined the proper location to drill the fascia to accept the R/C aircraft control cable that we've used for all switches and other manual controls. (These are called Gold-n-Rods and they're made by Sullivan. I use style S503 along with S527 Gold-n-Clevises. I get them at a local R/C store.)
Here's a short video of the derail and control in action. I still need to add a chain and padlock to the shelf to secure the lever in the "set" position. I'll use the same chain and lock that I've used on the switch stands. Enjoy if you watch!

Having done so much work on the layout during the day, Chris decided to stay for dinner so we could have a little fun too. We ran a freight extra to Port Rowan and back, switching a half-dozen cars. The layout ran really well, which is always a relief. (At this point, freight extras are more reliable than the mixed train. I'm not happy with the six-wheel passenger trucks under the passenger equipment – they occasionally derail, which is still too often for my liking. I have plans to do something about that, in the fullness of time.) The run took a scale four and a half hours at 4:1 on the fast clock.
—
Afterwards, we ordered in from Regina Trattoria, a local Italian eatery that does wonderful things with pizza. Ours featured grilled chicken, sundried tomatoes, roasted red peppers and gorgonzola – not your typical franchise fare.
Thanks again, Chris – great as always to see you!