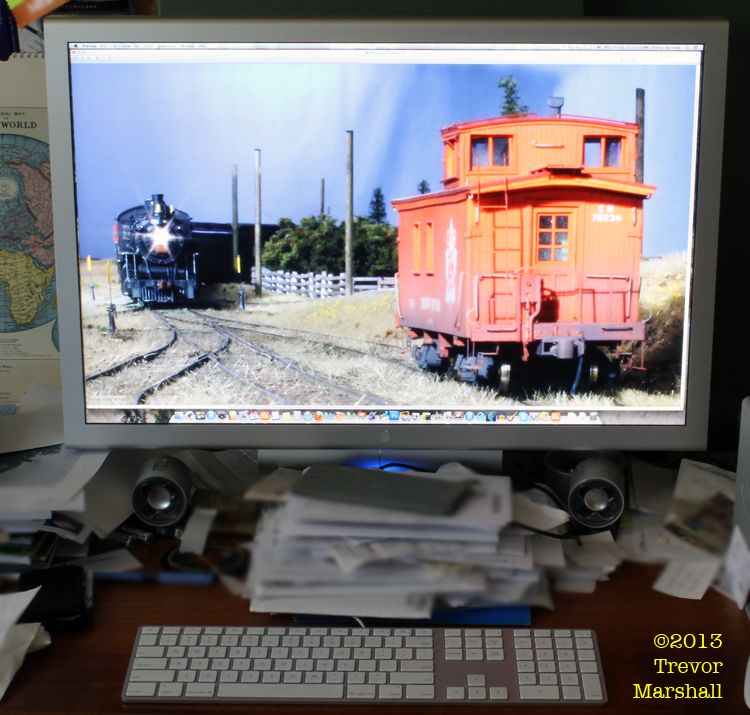 That's crazy. Of course there are compromises in the model railway hobby. Unless one is tackling a minimum-space prototype like the Bronx Terminal – as Tim Warris at Fast Tracks is doing, very successfully – one must make compromises.
Even my layout – two small towns, with a grand total of eight turnouts, and train lengths averaging five feet – is a study in compromises. The prototype towns I've chosen to model are 3.4 miles apart as the railway runs. That's 280 actual feet when converted to S scale – far too long to fit in my layout space. (Even if I had the space, I wouldn't want to hand-lay all that single track, or populate the surrounding area with trees. I have enough to do as it is, thank you very much.)
—
Another example of a compromise I've accepted is the right of way fence posts that I installed in St. Williams this past weekend:


(Click on the image to read more)
I've created a railway right of way that's much too narrow when compared to my prototype. With a fence line planted 10 feet off the closest rail, it's only about one third the width of my prototype's right of way for single track. (And even my prototype's spacing is narrow by today's standards.)
But I had a choice to make: In my space, I could model the railroad right of way full-width, or I could narrow it and use the space I saved to model farms, houses, tobacco kilns, and other elements that provide context to the railway. I decided it was more important to put the railway into the scene – to tell a story about serving the farms around St. Williams, for example – so it's a compromise I was willing to make.
—
I even make compromises where some others would not. As an example, I have a number of freight cars on the layout that do not have full under-frame detail. The stuff one can see when the car is on the layout is definitely there. But things like the train line, which is often tucked up between the sills? I don't bother adding it if it's not already on the model, because nobody is going to see it unless they turn over the car (and doing so during an operating session is definitely Bad Juju: A good way to make sure one is not invited back).
And (gasp!) I have rolling stock with incorrect details. A set of single-sheathed CNR boxcars I modified for my layout is a good example of this:


(Click on the photo to read more about these cars)
The prototype I'm representing with these cars had Z Braces – the models have Hat Braces. And while the ribs on the ends are the correct style, they should be a different arrangement. But I wasn't prepared to carve off the braces and ribs and replace them. My modelling skills can't compete against production-level tooling.
I did, however, carve off the over-thick stirrup steps and replace them with thinner ones that I formed from brass bar. I modified the roofs to make them more accurate to the prototype, because I could do that without damaging the cars. And I added fishbelly centre sills.
I wanted good looking cars that wouldn't bring down the calibre of the layout I'm trying to build, but I also wanted to focus on building the layout. At some point, when the layout is "finished", I can revisit the rolling stock and either upgrade these cars or replace them with scratch-built models.
So, yes, compromises are a reality in the hobby – and I'm happy to pick my battles.
—
But making compromises is also a slippery slope. That's why, if someone were to ask me about the philosophy I follow in this hobby, I describe it as "No Compromises" – knowing that I'm going to make some regardless. This is only a personal philosophy – you may agree, or not, and if you don't agree then I do not mean to offend and apologize if I do. But I think "No Compromises" is a better approach than a number of the others expressed in the hobby – including two much popularized ones: The "Good Enough Philosophy" and "Three-Foot Rule".
If you're not familiar with those, they're simple and related. The idea is that a model is good enough if it looks fine from three feet away – the distance many of us view even foreground models on a layout. It's often expressed as, "If I can't see it from three feet away – I don't need to model it."
(I'm often puzzled that some hobbyists are willing to accept a "Good Enough" effort, even before they make the effort. I've never run into this approach in other past-times. I work my border collies on sheep, with the goal of taking them to herding competitions. And everybody I know in the sport wants to improve their herding skills. We all want to be able to do this:

Actually, even though I'm a novice at herding – nowhere near as good as the people profiled in that documentary – when I watch the movie I see things I want to do better than they did in their runs. And I know that they want to do better, too.)
(The same thing can be said of golfers: I've never heard a golfer say, "Well, today I shot 15 over par. That's good enough for me." Golfers always want to improve their score. Always. Well done, golfers!)
But back to model railroading. Maybe it's because I have really good eyesight – my wife jokes that I'm her "Seeing Eye Human" – but the Three-Foot Rule has never worked for me. But I think these compromise positions are even harder to justify with the advent of affordable, high resolution digital cameras and large computer monitors on which to display the results. These are invaluable tools for improving one's modelling – providing one wants to improve.
—
The lead photo for this post is Exhibit A. It's a photo taken on my layout in Port Rowan, which I've thrown up on the screen of my desktop machine. Yeah, it's a 30″ cinema display. But the point is, my camera has rendered the scene in sharp detail from within inches of the lens to infinity, and the resulting image looks good even when the caboose in the photo is seven times the size of the model. At that resolution, the little details stand out – as do any compromises. Coarse or poorly rendered details look awful at this level of scrutiny. So do details that I know should be there, but aren't. When this photo was taken, the scene was not finished. It still isn't. But what's there, I think, stands up to close examination.
When I catch myself trying to apply the Three-Foot Rule or the Good Enough Philosophy to my own modelling, it's often because I'm finding it difficult to figure out how to create a small detail and I'm looking for an excuse to not do it. When I find myself heading down that path, I step back from the bench and figure out how to overcome the hurdle.
That (to me anyway) is the value of the "No Compromises" philosophy. It forces me to approach the hobby with the goal of perfection and then think about the compromises I'm willing to make, rather than deciding before I even tackle a project that the end result only needs to be "Good Enough". Along the way, I'm forced out of my comfort zone and need to learn how to do things I wouldn't otherwise attempt.
That makes me a better modeller – and makes the hobby even more rewarding.
—
Back to the bench. I have a project underway that needs to be better than it is.