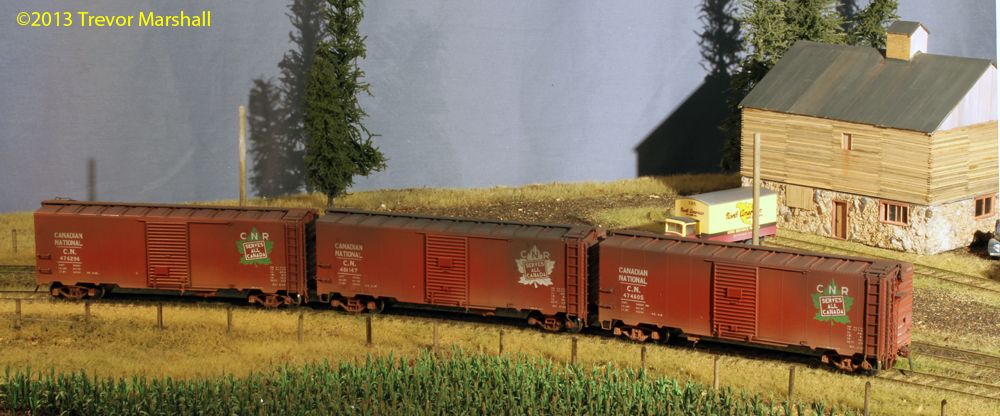 I've upgraded wheels and couplers, added air hoses, and weathered my three newest editions to the CNR boxcar fleet.
My previous posting on this set of cars generated a lot of discussion after Jared Harper asked why I plan to have so many CNR boxcars on my layout. It's a good question. The full discussion can be found in the comments section on that previous post, but here's a quick recap:
In the 1950s, as today, the Canadian railway scene was dominated by two nation-spanning systems. The CNR and CPR went virtually everywhere, from coast to coast. This is quite different from the situation in the United States, where railroads were confined to specific regions. Even the mightiest stopped at the Mississippi, and hauling freight across country required interchange with one or more partners.
In Canada, most freight would have been carried by a single road, without interchange. One reliable source suggests 75% of the boxcars on a mid-century Canadian layout should be home road boxcars. A distant second would be traffic exchanged between the two major railways. A distant third is cars from American roads.
Most traffic would've been domestic. And in the 1950s, Canada did more trade with the UK and other members of the Commonwealth than it would have with the United States. For the most part, that foreign traffic would've arrived in Canada at Canadian ports such as Halifax and Vancouver. Or, it would've landed in North America at an American port and forwarded, in sealed cars, to Canada. (Marty McGuirk pointed out that half of the cars carried by the Central Vermont through White River Junction VT were CNR cars. That makes sense when one considers the CV was owned by the CNR and linked Canada to the port at New London, CT.)
What's more, I'm modelling a tiny backwater on the CNR's system. Therefore, every car that arrives on my branch is there because it's delivering something to St. Williams or Port Rowan – or picking up a load from these places. If delivering, chances are slim that the load came from anywhere other than a place where it could've been loaded into a CNR boxcar. If it's a load originating on my branch, it's likely to be packed into a CNR car. (This isn't a hard and fast rule, but it's a good guideline.) There's no bridge traffic, so I can't run many American cars – or even specialized Canadian ones – and say, "Well, that's just using this line to get from Point A to Point B".
(There were exceptions, of course – and I'll deal with those in a future posting.)
Finally, the reality of S scale is there's limited choice for rolling stock. One reason I will have so many CNR 10′-0″ steel 1937 AAR cars on the layout is that Pacific Rail Shops made a suitable plastic kit for this prototype, and decals are available from Black Cat Publishing. That said, I've done quite well in adding variety to the CNR fleet. I have examples of the following on the layout or in the planning stages:
– CNR 36′ Dominion boxcar (the Fowler Patent): One on the layout, one in kit form. I'd like a couple more. This is a Ridgehill Scale Models resin kit.
– CNR 40′ single sheathed car: 3 suitable stand-ins on the layout. This is an S Helper Service RTR car that I've detailed and painted.
– CNR 40′ AAR 1937 steel boxcars (10′-0″): Like the cars in this post. With these three, I have five on the layout – plus two more in kit form.
– CNR 40′ double-door box: I have one on the bench. It's an extensive modification of a PRS kit.
– CNR 10′-6″ steel boxcars: I have one kit to build and am in the process of acquiring a second one. Like the double-door boxcar, these will require extensive modifications to a PRS kit.
So, that's 15 cars in five varieties. Not too bad a representation of the CNR's vast fleet. And since I think I have four to six boxcars in paint schemes other than CNR, my ratio of home road house cars is about right…