This week I finished – or almost finished – three of the trees near the station in St. Williams.
As the unfinished trees in the photos show, I built my tree armatures from florist wire. I then covered these with Flexible Modelling Paste – the brand I use is Liquidtex and I get it at my local art store. The colour is acrylic paint mixed into the paste. It's a little too brown in these photos so I will dry brush some grey and/or black on the trunks. I also note the twist of the wires can still be seen on one trunk, but I can daub some tinted paste on that in-situ.
The canopy is the standard tree netting from Woodland Scenics, added once the armatures are glued in place on the layout. I cut very small squares (about 3/4″) of this material, tease it out to two to three times its size, then thread it onto the wire. I start low and near the backdrop, and work my way up the tree and towards the front of the layout. Adding the canopy this way is time consuming – it took about two hours to do three trees – but I really like the effect.
A mist of hair spray keeps everything in place. Since taking these pictures I've tried to add some variety to the leaf cover with some Selkirk Leaf Company leaves. I'm not entirely pleased with that process so I'll continue to work on it before I share any photos.
A fourth tree at the right in the photo below is only half-covered with canopy: Since the branches of these trees grow past each other, I will wait until I have applied the paste to my next batch of tree armatures before I finish this tree.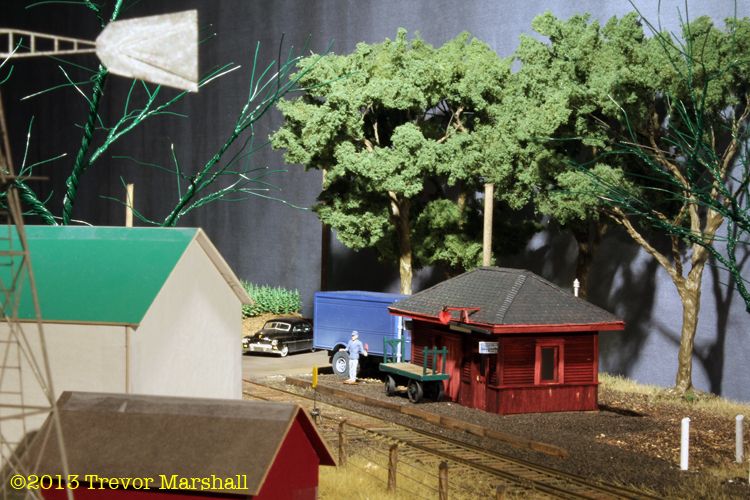 I think they're going to frame the scene nicely and I like how the tree at left looks next to Charlotteville Street:

I still need to add some undergrowth here, and finish a few more details. Meantime, it's time to start applying paste to the next batch of armatures!