It's been a while since I introduced my ideas for representing LCL and Express during operating sessions, so I thought I'd provide an update.
I've now created some freight receipts to represent shipments from St. Williams and Port Rowan. To make it easier for conductors to organize their paperwork, I filled these out in red ink – but it may be too obvious a difference, so I'm thinking about other ways to help operators track inbound and outbound shipments. One thought that occurred to me is to fill out all freight receipts with blue ink, but add a red dot in one corner to highlight outbound traffic.
I'll work on that but in the meantime, I have generated enough receipts that I can start testing the system in earnest. As I started using the freight receipts while running sessions with The Daily Effort, I quickly realized I would need something to organize and hold receipts on the slide-out work desks at St. Williams and Port Rowan. I looked for something suitable at office supply stores, but came up empty handed. Therefore, I decided to make my own.
I designed a set of pigeon holes to hold receipts, making them wide enough to hold a receipt inserted lengthwise and not quite as deep as a receipt so that the conductor would be able to grab them. The pigeon holes are a lot like the boxes people mount on their fascias to hold car-cards, but designed to lie flat on the work desk. I had some nice poplar project wood to hand, so that's what I used.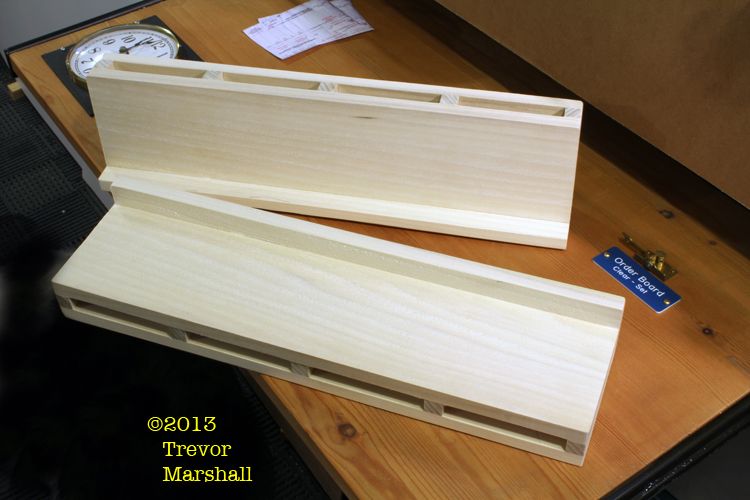 As the above photo shows, five square strips are sandwiched and glued between two boards. A third board is glued across the back so receipts could not be pushed through. This board is taller than the box and hangs below the assembly so that the finished organizers hook over the back of the work desk surface. (In the above photo, the organizer in the foreground is upside down to provide a better view of this board.) I'll add a screw or two next time I'm under the layout to hold the organizer in place, if I decide it's needed.
I lightly sanded all corners and edges on the finished boxes to make them "finger friendly" – a practice I learned from Steve der Garabedian of Black Walnut Studio, who has taught some excellent wood-working courses at my local Lee Valley Tools. I've learned lots from Steve, but that's one lesson that I use over and over on my layout now. (Thanks Steve!)
With the back board hooked over the rear of the work desk, the organizers peek out from under the fascia when an operator slides the desk all the way open. This makes them easy to see, but keeps them out of the way: Perfect!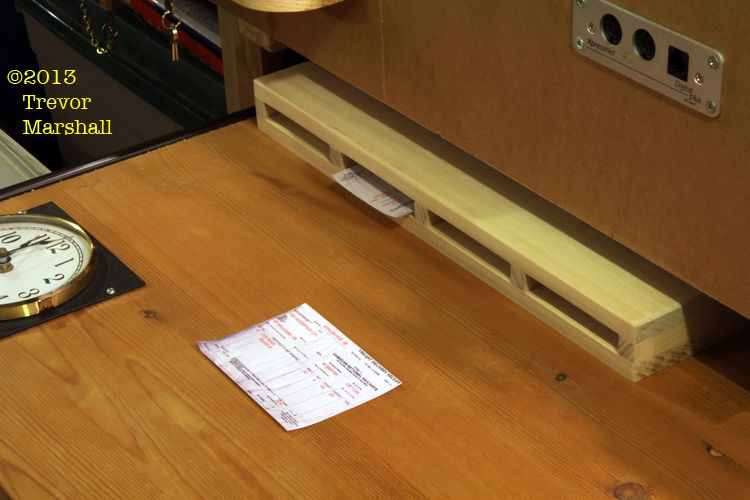 As the photos show, I designed these with four slots although only two are needed to sort LCL and Express. But I'm sure I'll come up with uses for the other two slots so this is one instance where I've planned ahead!