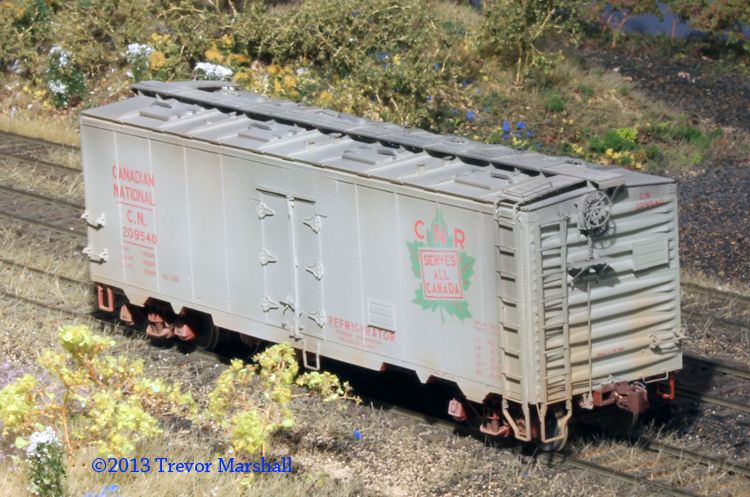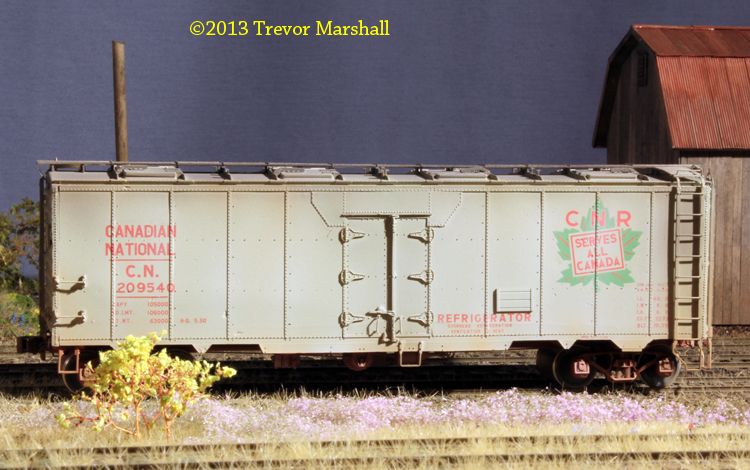 One down – two to go: The first of my three eight-hatch refrigerator cars is finished and ready for service on the Port Rowan branch.
Having installed a new running board, described in yesterday's post, I stained the wood pieces with Weather-It. I then airbrushed the styrene crosspieces of the running board (as well as the upgraded hatch rests) with CNR Grey #11 to blend them into the finished car. Some overspray on the wood suggests that the running board was originally painted but has worn off over time.
After the grey cured, I weathered the car with Acrylicos Vallejo paints.
My next task is to create waybills for this car. Obvious commodities include apples out of Port Rowan, and other produce out of St. Williams. The adjacent Port Dover branch shipped fish and flowers, too. I could borrow some of the fish traffic to ship out of Port Rowan, and I'm sure a greenhouse in the St. Williams area could ship flowers.
But these cars carried a wide range of commodities. As the GHQ Forum notes, these are not "Refrigerator Cars", but "Temperature Control" cars – they were equally good at keeping things from freezing as they were at keeping frozen things frozen. Commodities hauled included chicken, beef, pork, fish, crabs and lobster, cream, juice, canned goods that shouldn't freeze, pickles, peanuts, trees and shrubs, flowers, veggies and fruit of all kinds, condensed milk, blacking liquid, ball bearings, bakery goods, chocolate, eggs, beer, syrups, candles… the list goes on.
I'll have fun filling out waybills for this car, and its unique paint scheme and busy roofline will make it a real attention-grabber during operating sessions.
Thanks to Andy Malette at MLW Services for creating this kit, and Pierre Oliver at Elgin Car Shops for building it for me.