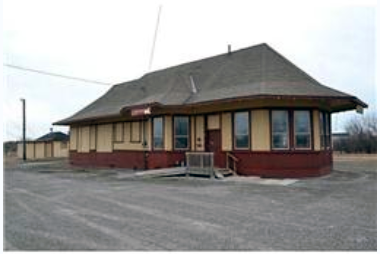 I went through Jarvis, Ontario yesterday afternoon and not only is the old station there – it's also for sale!
$169,000 (Canadian) gets you a 1,500 square foot station on 0.89 acres, zoned industrial. Here's a link to the listing – keeping in mind that once it has sold the link will probably be broken.
The agent's web site has this to say…
An excellent opportunity to own this local landmark! Set on .89 acres, this former train station is character filled with beautifully high tongue & groove ceilings & hardwood floors. This unique building offers many business opportunities including restaurant use. Municipal services & natural gas. Lots of parking. Located in Jarvis with high exposure from Highway #6.
Jarvis was the junction between the Hagerville Sub (from Hamilton to Simcoe, and thence onto Port Rowan and Port Dover) and the Cayuga Sub. The Cayuga Sub was owned by the CNR, but most of the trains on it were the Wabash Railroad's Red Ball fast freights, which cut across southern Ontario to shave time off the Detroit-Buffalo run.
This is not the first time the Jarvis station has appeared on my blog. A model of the station is the first thing one sees when entering Pierre Oliver's HO scale Wabash layout:

This model was built by the late Richard Chrysler for his own, excellent HO scale rendition of the Hagersville Sub. I photographed Richard's layout earlier this year, before it was torn down. Here are a couple of pictures of the Jarvis station from that photo shoot, showing a CNR freight about to enter the Cayuga Sub en route to Simcoe:

Here are a few more photos of the real station:

Office with operator's bay window

Baggage room with elevated platform
If this inspires you to buy the Jarvis station, let me know!