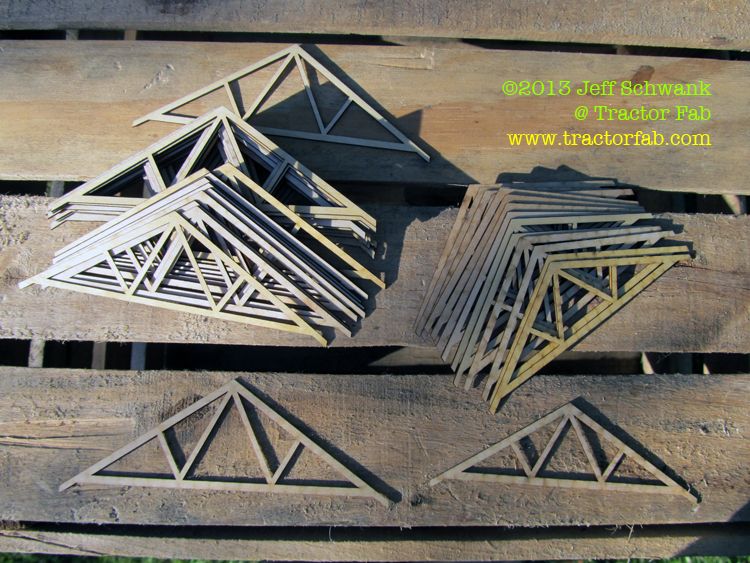 In early September, I mentioned on this blog that TractorFab would be offering custom roof trusses in laser cut wood.
I followed up with TractorFab's owner, Jeff Schwank, and a couple of weeks ago I placed an order for two sizes of truss. I'll use the first size for the five tobacco kilns in St. Williams, and the second size for the garage behind the feed mill in Port Rowan.
For each size, I provided Jeff with the S scale height of the peak, the S scale width of the structure, and the number of trusses I wanted. Jeff then quoted on each of the two sizes, providing me with a PDF of the CAD drawings so I could see exactly what I would be getting.
The price is quoted based on the size of the truss required, and I think it's quite reasonable. Jeff currently offers one style of truss but more are on the way, and if you have a custom design he can do those, too – for a modest set-up fee. And while these are designed for 1:64 structures, the trusses would be useful for other scales as well.
As shown at the top of this post, Jeff sent me a photo of some of my trusses before he boxed them up. The box arrived today and the trusses are exactly what I wanted. Thanks Jeff! Service was excellent and all of my trusses arrived damage free. What's more, I tested some of the trusses in the joist setting jigs offered by Rusty Stumps Scale Models, and they fit beautifully. Being able to use these joist setting jigs for the trusses will make short work of spacing them consistently as I build a structure.
These trusses will make building structures a lot easier. Roofs will be well supported, rafter tails will be consistent, there are no jigs to build for cutting and gluing up trusses from individual members… you get the idea. Highly recommended!