No, not the blues legend…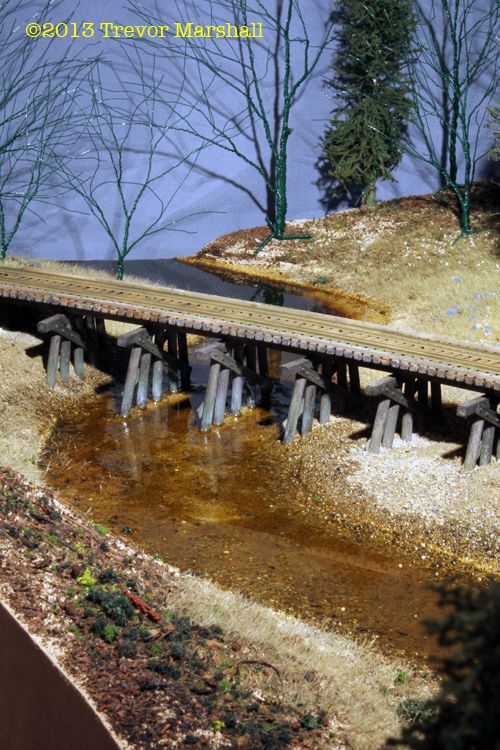 I've always been hesitant when modelling water. I've tried several systems that have failed me for various reasons. But last night I decided it was time to Man Up and pour the two sections of the Lynn River depicted on my layout.
This time, I decided to use Magic Water – a two-part resin from Unreal Details. It was my first experience with this product, and I'm really pleased with how the water has turned out – so far. (I say "so far" because the resin is still curing. It takes about 24 hours to set, and it's only been about 12 hours as I write this.)
I mixed the resin and hardener in several small batches, adding a few drops of Burnt Umber acrylic artists ink from Daler-Rowney to each batch prior to mixing.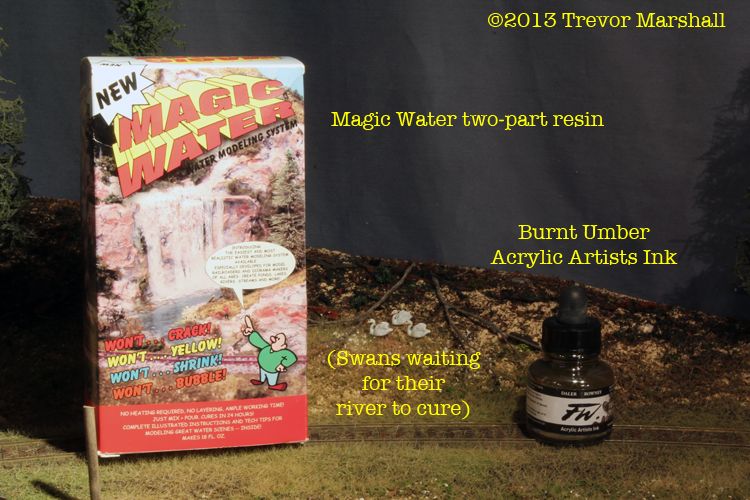 As the Magic Water instructions say, mix well: I set a timer on my phone and kept stirring until the alarm went off, to ensure I didn't shortchange this part of the process.
The instructions also warn that this stuff pours like water. It's actually a little thicker: it pours like cooking oil. But I believe the instructions when they warn it will find even the tiniest hole in your river bottom and flow out. That said, even before I installed the riverbed I knew that I would be trying this system – so I planned, from the start, to create a water-tight riverbed. Here are some of the steps I took:
– I made sure the riverbed was as level as I could make it – not only front to back, but also side to side.
– For each section of riverbed, I used a single (un-spliced) piece of 3/4″ plywood as the base.
– I made sure there was plenty of plywood to either side of the actual, modelled piece of river. This gave me ample space to which to attach the foam board that I used to create the riverbanks.
– When the riverbanks were installed, I coated everything with a couple of layers of hydrocal.
– When adding scenery to the riverbanks, and detailing the river bottom, I used generous amounts of thinned Weld-Bond to make sure everything was solidly glued in place. The Weld-Bond also sealed the plaster and any holes I may have missed.
I obviously did a good job on my preparations, because the Magic Water stayed on the layout. When I checked this morning, the floor was resin-free under both sections of the river. Phew!
There's very little wicking, although when the resin has cured I will have to add some bushes along the shoreline in a few places where the resin did wick into the adjacent scenery.
I'm especially pleased with the brown tint. I think the ink was a good choice. And I like the reflections I'm getting off the river.

The truly magic part? I had just enough material in one package of Magic Water to do both sections of the river. It couldn't have worked out better if I'd planned it!