Look closely at the rear of the two vehicles in the above photo. What do you see? Yes – licence plates. Not only that, but Ontario licence plates – from the 1950s.
I make a quick stop at George's Trains this week and while poking about the store I came across a sheet of 1950s Ontario licence plates in HO scale:

In the 1950s, the province of Ontario used four colour combinations of plates – introducing a new colour combination each year, as follows:
– white on black (1950, 1952, 1957, 1959)
– black on white (1951, 1958)
– white on blue (1953, 1955)
– blue on white (1954, 1956)
As the above photo shows, the set includes combinations for all years. It two plates of for each number, and for any given colour combination there are enough plates to do 24 passenger cars/light trucks, eight commercial vehicles, and six transportation vehicles. (I'm not sure what's meant by a "transportation vehicle", but my best guess is "trailers".) Not bad for less than $10.
Picking a year was a bit of a challenge since I run two operating schedules – 1953 with the Moguls and a baggage-mail car, and 1957 with the 10-wheelers (and, eventually, a regular baggage car, without an RPO section). In the end I decided on the white on black, since they were used in four of the 10 years of the decade, including the first and last.
I cut out the plates with sharp scissors, working just outside the edge of the printed area. I then stuck the plates in place with a tiny drop of CA.
The plates are printed to HO scale, so they're a little small in the licence plate holders included on some of my S scale M2 / Auto-thentics vehicles. But I think the plates look really nice – a definite improvement over raw chrome – and as the cropped close-ups below show, the print is legible: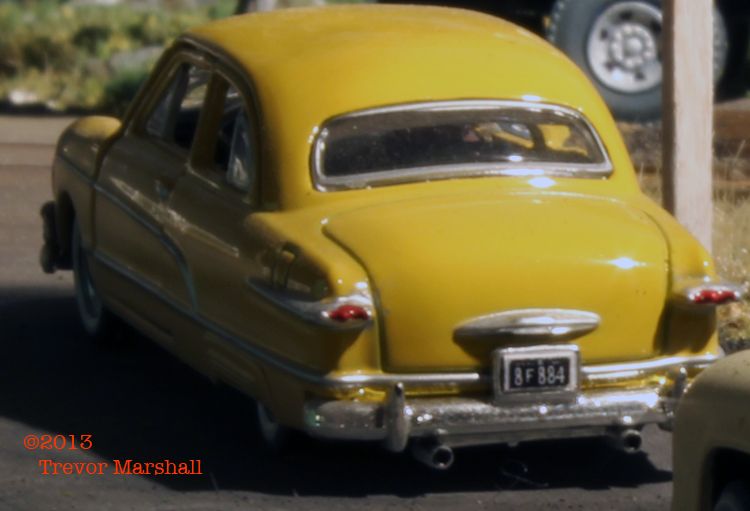 (Plate "8 F 884")
(Click on either image to view a larger version)
The plates are printed on photo (glossy) paper and offered by a company called Penitentiary Productions. I have not been able to find any more information about the company online, but George's Trains had plates for other provinces and eras as well – all in HO scale.
This is one of those little projects that one can undertake when one has 15 minutes to spend at the workbench. And over time, attention to little details like this makes a big difference on a layout, so I think they're worth the trouble.