I'm catching up on other people's blogs and while working my way through recent entries by Lance Mindheim, I found myself nodding in agreement with his thoughts about scene composition. Lance's blog doesn't index by post, so you'll have to follow the link and scroll to the following post:
Lance notes that scene composition is the primary driver of realism. And he notes the biggest mistake modellers make is that they put elements too close together. They don't leave enough space between features.
For those trying to model a real place, as I do, a lot of the hard work has already been done for us. Most features in real life have plenty of space around them so if we're modelling a real place, all we have to do is copy what we see.
My terminal in Port Rowan is a good example: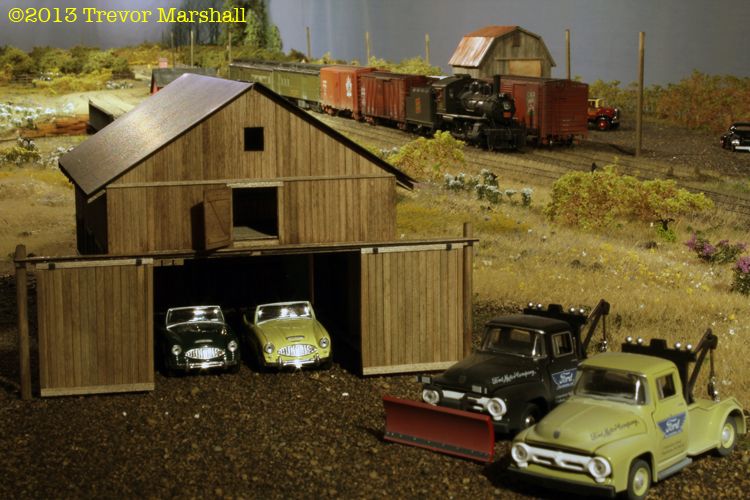 I resisted the temptation – it's always a temptation – to pack more stuff into my layout space. I devoted almost 1200 scale feet to the yard – from the first switch to end of track. This compares favourably to the prototype yard, which measured roughly 1700 feet from first switch to end of track. And as a result of not compressing things too much, I think I've captured a realistic representation of the space between things. There's space in the above scene between the four structural elements you see – the garage, the section house and turntable (barely visible over the far peak of the garage) and the small barn next to the team track.
How much space? Good question – and a quick trip to the layout room with tape measure in hand provides some answers. The following distances were measured between closest points – not from the centre of each element:
Garage to Turntable: 35 inches
Garage to Barn: 51 inches
Turntable to Section House: 17 inches
Section house to Barn: 15 inches
And while it can't be seen in the photo, the coal dump is behind the last passenger car in the train, which places it at similar distances from other elements. It should also be noted that each of these elements is quite small, averaging 4 by 6 inches (the turntable is longer, but narrower, so it occupies roughly the same amount of visual space).
Now, don't obsess about the measurements. There isn't a magic formula that says, for example, "the space between two elements should equal the sum of the square footage of each element". I provided the measurements because it's sometimes hard to appreciate the space between when looking along a scene like this. It's obvious the barn is some distance away – but how far? Is it 35 inches? 42 inches? 68 inches? I think that knowing it's 51 inches from garage to barn helps one put other aspects of the image into perspective.
The structures draw the eye – so in between each, I try to keep the scene composition relatively neutral. That's not to say that it's dull: I've used big expanses of meadow, and the meadow is filled with wild flowers, shrubs and other natural features. But the eye tends to gather all of this visual data together into one concept – "meadow" – so it's easy for one's perception so slide across this space from one signature element to the next.
I think this scene is effective for two reasons. First, I based it on a prototype. Second, instead of asking, "How much can I fit into this space?", I asked, "What do I really need, and how great a space can I devote to it?"
Obviously, there are times when cramming elements together actually enhances a scene's composition. For example, running tracks between retaining walls and in the shadow of skyscrapers conveys the sense of a big-city union station – while having the track hug a narrow ledge between canyon wall and rushing river helps tell the story of narrow gauge railroading in the mountains of Colorado. But most railroad environments are not that extreme and a layout too tightly packed may do many things well but will also come off as train-setty.
Something to keep in mind if you're at the design stage. But even if you're already well underway, remember that course corrections can always be made…