While I have minimal real estate in which to do it, I want to suggest that there's more to the town of St. Williams than a level crossing. That said, I also don't want to crowd the scene with structures. How to proceed?
I've kept clear a plot of land to the right of the depot and my plan is to use this area to suggest some back yards. Naturally, anybody living this close to the tracks – even a rail fan – would want a privacy fence. It became obvious that I would have to install this fence before I finish and plant the trees in these backyards, so I've spent a couple of days worth of hobby time scratch-building the fence.

As the pictures show, I've actually built three styles of fence to reinforce the message that we're looking at three backyards, not one:
The property at left (closest to the station) has a simple board fence that's fairly roughly assembled.

The middle property has a tighter board fence built in panels between the posts, with a top board to trim things off neatly.

The property at right has a more decorative fence, with the boards trimmed in arcs.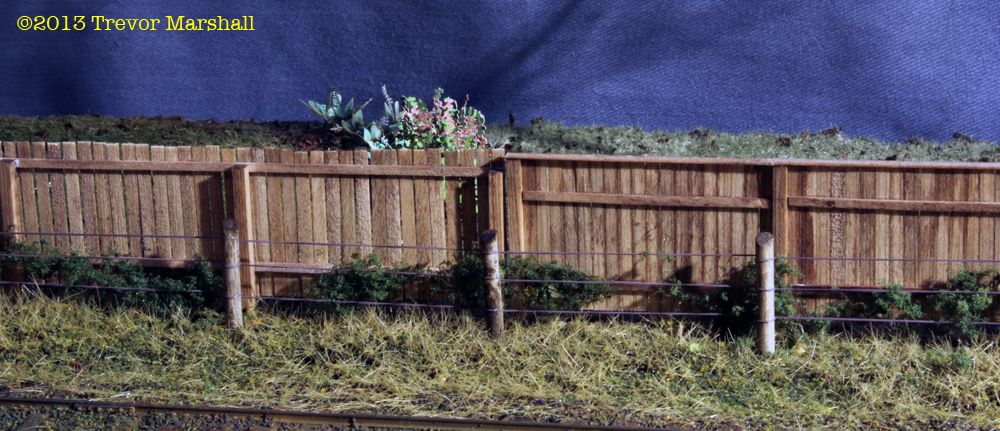 Each property is 60 scale feet wide – actually, three times the width of the downtown Toronto property I'm used to, and a respectable size for a property in a small Ontario town. I have about a scale 30 feet between the fence and the back of the layout, and I've added short sections of fence at each end of this trio of backyards. In all, I built about 240 scale feet of fence – and I did it board by board, with each board distressed and stained before assembly. The project used a lot of scale 1″ x 6″ – several packages worth!
I've also started to create the backyards. The glue is still wet in these photos, but I've added grass and some basic plantings. Look at the above photos and you'll see some bushes separating the middle and right properties, and some flowers along the property line between the left and middle backyards. I'll add a simple fence behind the flowers here.
The home owner of the property at right is growing tomato plants – I'll have to add old hockey sticks redeployed as stakes. That'll make it very Canadian: