Yesterday's post was a teaser of sorts for this one. I've been working on the trees near the depot in St. Williams and I have – finally – built some that I really, really like.
I've been working for a while on making my own trees, following the techniques Gordon Gravett has written about in his excellent series of scenery books. As I've written before, the armatures are twisted from many, many lengths of florist wire, then covered with Flexible Modelling Paste from Liquitex.
I've been very happy with the armatures, but the canopy was eluding me. For the latest set of trees, I used Woodland Scenics Poly Fiber.
I tear off small pieces – very small – and stretch them out, a lot. I then give each one a quick shot of spray adhesive, pick it up with a pair of fine tweezers dedicated to the purpose (since the glue can get, well, gluey), and lay it in a tray of leaf material from the Selkirk Leaf Company.
While holding onto the Poly Fiber, I grab a fistful of leaf material and drop it on top of the Poly Fiber – positively bury it in leaves. I then pull the Poly Fiber out of the leaf pile, rap the tweezers sharply with my other hand to knock off lose leaf material, and add my new leafy fiber material to my armatures.
Small pieces are generally better than big ones, although in some places I used large pieces to bridge between branch ends.
I'm really happy with the effect. The trees look healthy with a canopy that's dense yet significantly see-thru. In particular, I like how the foreground tree (next to the white house mock-up) works with the ones along the back of the layout to create a short tunnel effect between the station and the farm field to the right (west).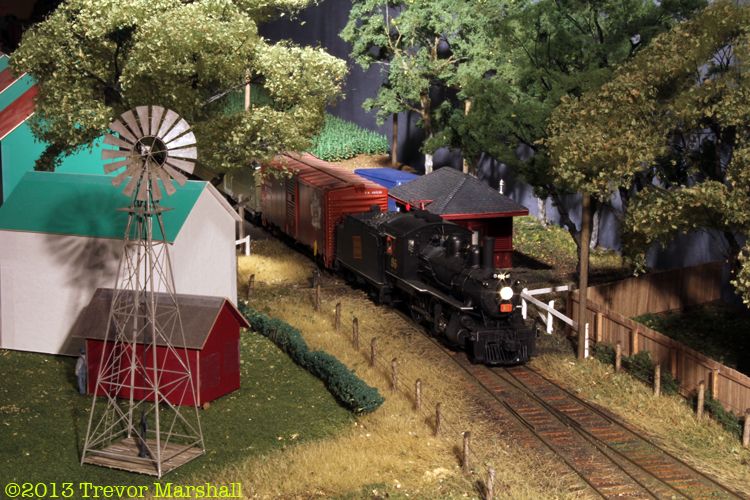 More on this scene in my next post…