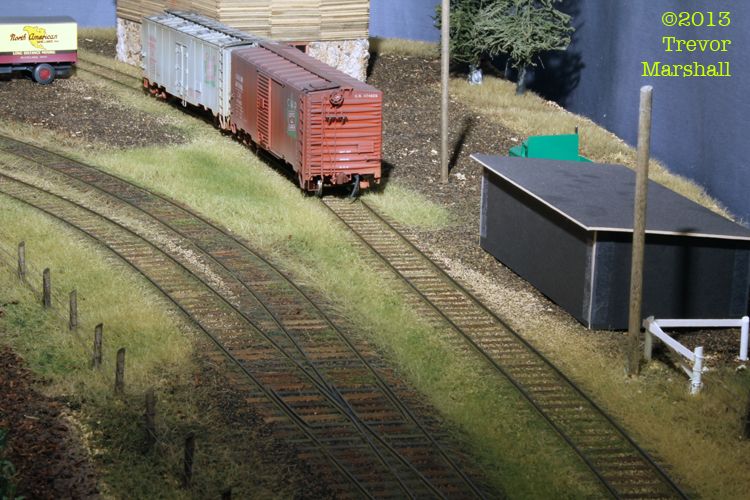 I decided, after much consideration, that my summer scene was just too hot and dry. The grass was baked to a golden straw colour – more reminiscent of California than Canada. So yesterday, I addressed the problem: I airbrushed the layout.
Having had great success using acrylic artist ink to tint the resin when I poured the Lynn River, I returned to this particular well. Sap Green from Daler Rowney was perfect and airbrushed beautifully right out of the bottle: no thinning necessary. (During and after spraying, I ran the paint booth – which is co-located in the layout room – and wore a mask.)
I added green in random splotches and stripes, being careful to not hit the backdrop or the river surface. I shot between the weeds and other plants and didn't worry about complete coverage – this was weathering on a layout-sized scale.
My focus was the large expanses of meadow in Port Rowan… the banks of the Lynn River… and the larger areas of grass in St. Williams. But anywhere that I thought looked too burnt and dry got a spray. After leaving it alone for a few hours, I went back and buffed the rails to remove any ink that settled on them.
The green has helped blend everything together better, and the layout looks more like southern Ontario now. I'm glad I took the trouble to do this!