While Hunter Hughson and I waited for Mark Zagrodney to arrive for yesterday's ops session, layout design discussion and dinner, I hauled out some of the Proto:48 equipment that I'd acquired for a planned Southern Pacific layout. Hunter is a musician as well as a modeller, and we had been talking about the shortcomings of trying to push full-sized locomotive sounds through the tiny-and-therefore-tinny speakers that we're forced to install into our models.
I thought Hunter would enjoy hearing what can be done when one has the space for a decent-sized speaker. And even in a small prototype, such as this SP 2-6-0, there's a veritable cathedral of space inside the tender. In this case, I was able to fit a 1.77″ diameter High Bass speaker. As this brief video from a couple of years ago demonstrates, the sound is pretty spectacular compared to what one is used to in HO – even captured through the condenser mic on my camera:

The detail on the O scale locomotives in my collection is also impressive. I take no credit for it – it's all the work of the builder (Boo Rim) and the importer (Glacier Park Models):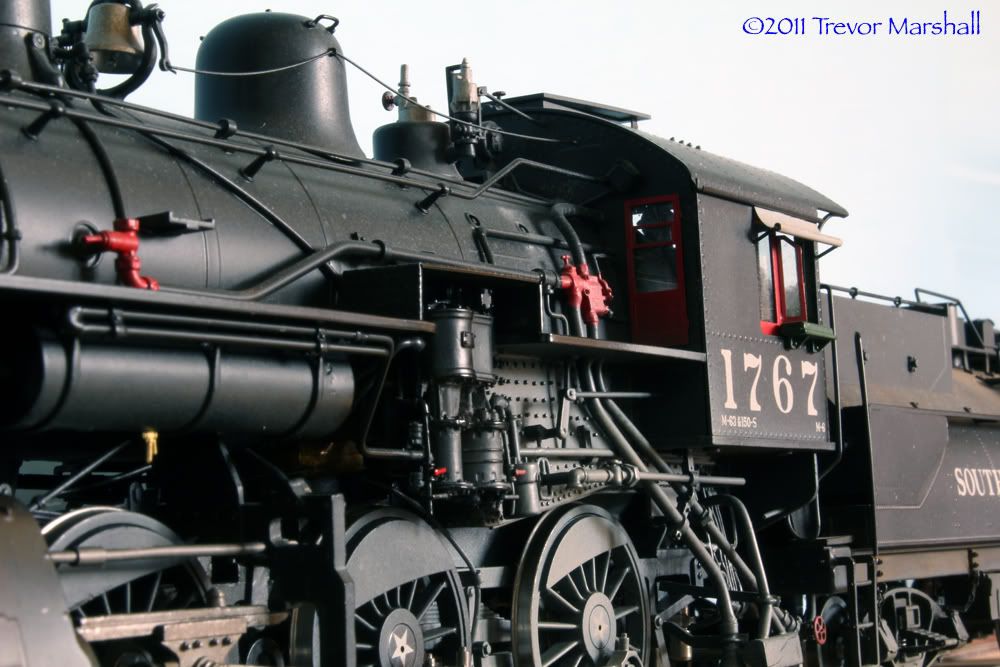 And the couplers – retrofits from Protocraft coupler kits – are as realistic as one could want. They even operate correctly: to uncouple, one uses a dental pick to lift the cut bar, which in turn pulls the pin.
After playing with the locomotives and some other equipment for a bit, we went onto other things – but it got me thinking about whether I'd picked the right scale (S) and the right prototype (CNR) for my current layout. Did I make a mistake?
So this morning I re-read one of my earliest postings, called "Why S Scale?" I reflected on my observation from more than two years ago that, as I put it:
When trying to draw an O scale plan for my layout space, I always came away unsatisfied… (and)… my two primary objectives for the layout were in conflict.
That took care of the waffling – and serves as an example why it's useful to document one's progress in the hobby. Re-reading my blog this morning, I was able to cast the hard, cold light of reality on yesterday's moment wistful nostalgia for O scale. 1:64 is definitely the right scale for me – for this layout room, at least.
I also had a look at my entry about the SP Friant branch on my Achievable Layouts blog. In that post, I included a rough sketch of an S scale SP layout for my space. It reminded me that in O scale, the already-compressed scenes in that plan wouldn't fit at all: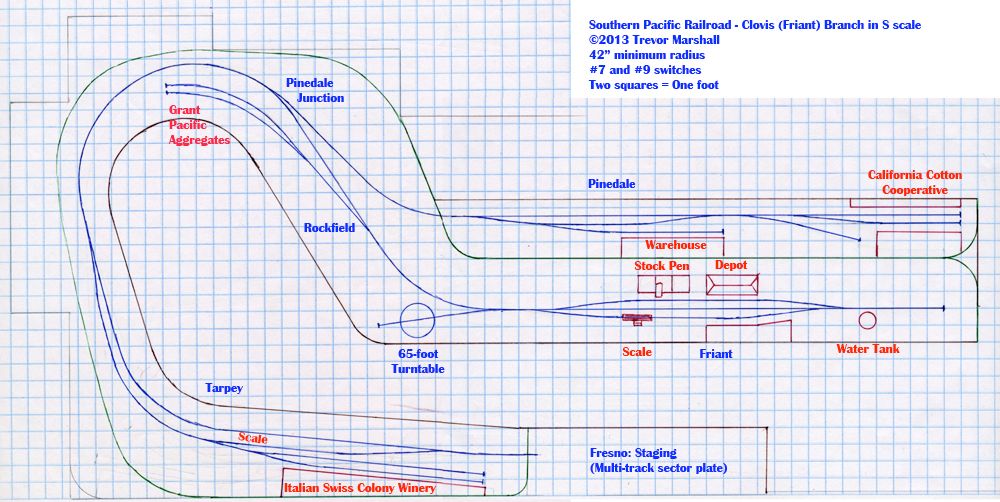 (Click on the plan to read more)
That said, I'm going to hang onto my O scale models, which slumber in a display case in my home office. I enjoy looking at them – and I really enjoyed running a couple of them on a simple test track yesterday.
Maybe – someday – I'll figure out how to use them as the basis for a layout:
It might have to wait for a move and a bigger layout room.

Or perhaps when I get the S scale layout a little further along I can think about doing a UK-style exhibition layout: Another advantage of those big speakers is that the sound the generate can actually be heard in a public hall.

Failing that, maybe I can find space in my current house for a shelf switcher. It may seem counter-intuitive but when the trains themselves are so big, even a simple "Inglenook Sidings" style of layout can be entertaining.
Well, we'll see. It's a hobby and I'm in no rush to make a decision on this. But in the meantime, yesterday's fun also reminded me that I still have to install DCC and sound in some of these locomotives, a procedure that includes a second decoder to provide independent control of headlight, back-up light, class lamps, illuminated number boards, and cab interior light. Working on these will be a nice project when I need to a break from Port Rowan and recharge my enthusiasm for layout-building.
It's all good!