My thoughts are evolving about how to use the telegraph network I recently installed on the layout.
I originally planned to use International Morse for my layout. One of the advantages of International Morse is that the alphabet was rationalized so it's easier to learn than Railroad (American) Morse. (More on this below.)
On the other hand, I've realized that it's unlikely I – or my guests – will actually learn to pound brass like Morse enthusiasts.
As I've mentioned previously, I am creating telegraphy scripts to help operators OS trains during ops sessions. This is akin to creating a phonetic cheat-sheet to help someone properly pronounce a word or phrase, even if they don't know what it means. If that's the case, I might as well give Railroad Morse a go, right?
I've now created scripts in Railroad (American) Morse for us to try: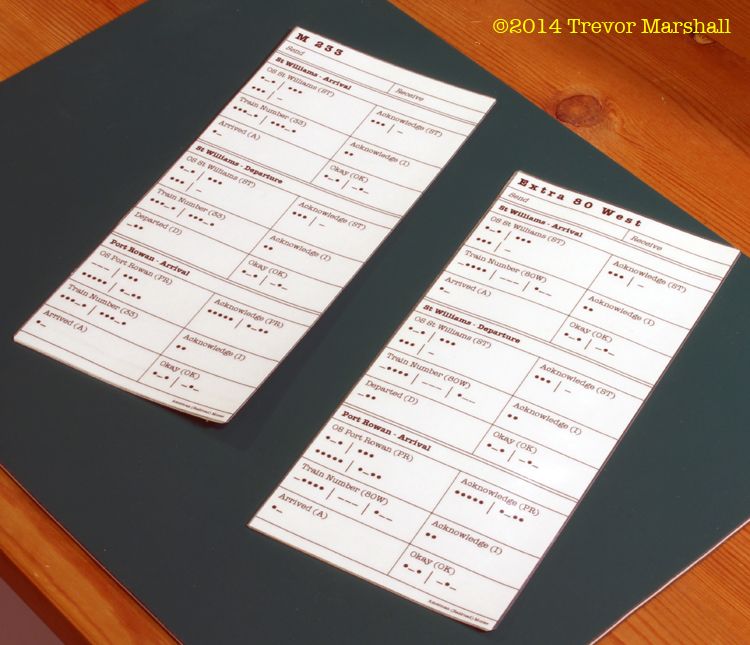 In reviewing these scripts, one challenge which I have not yet addressed is that Railroad Morse actually has more than two sounds in it:
– In addition to the dot and the dash, there are spaces (no sound) used within characters. For example, the letter "O" in Railroad Morse is "dot-space-dot".

– As well, some dashes are longer than others. For example, the letter "L" in Railroad Morse is written as two dashes – but keyed as one long dash. And the number "0" in Railroad Morse – three dashes as written – is keyed as a dash that's even longer than an "L".
Given that we will be novices with the keys, it'll be stretching our talents just to key a dot versus a dash – never mind developing perfect timing. For this reason, I've kept the International Morse scripts too – adding a label in mice-type to each sheet so I can tell which set we're using. If Railroad Morse proves to be too challenging for occasional users, we'll go back to International Morse.
I've also made a first attempt at creating a script sheet for the dispatcher:

This looks complex, but the reality is that the dispatcher on my layout has but three responses to transmit. What's more, with the exception of which station he's answering (Port Rowan or St. Williams), the responses are always the same. The operator could key "Arrived" successfully, or it could come across the telegraph as "I've just set my elbows on fire": Regardless, the dispatcher will give him an "OK".
That said, I'm still working on my ideas about how to organize the scripts to make it easier for operators and the dispatcher to use because I do want my friends and I to be able to communicate successfully via the telegraph network. If we can't, then we might as well be pressing a button on the fascia to send a pre-recorded string of dots and dashes – and there's no fun in that.
Naturally as the system develops, I'll share the progress via the blog. Stay tuned…