I had a great evening last night with Robert Thompson, a modeller from British Columbia who was in town for work and was able to free up some time for an evening get-together. It was Bob's first visit to my S scale layout but while he's currently working in HO he's worked in Sn3 in the past so he's familiar with the scale.
I gave him the quick overview of the layout and we discussed some of the projects I'm working on, then we ran an operating session with a freight extra.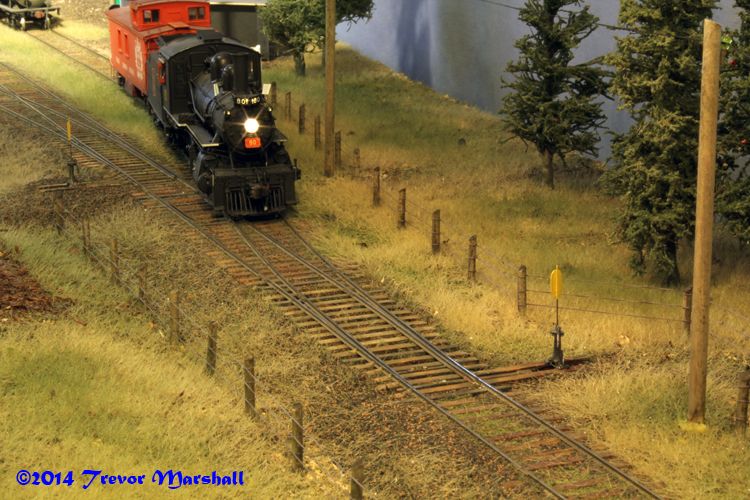 I was disappointed with the performance of CNR 80 – my go-to mogul for running a freight extra. I've written recently about some derailments I've been trying to correct, and thought I'd fixed the problem – but if anything, the derailments were worse than ever. We limped through the session and Bob was quite gracious about the whole boondoggle. (Thanks, Bob!)
At the end of the run, I hauled out another mogul and we tried it through the same troublesome spots. It performed perfectly. Having suspected the track for the past few weeks, I'm now convinced the problem lies with the locomotive.
It was too late, and I was too tired, to investigate CNR 80 at the time, but I made a mental note to jump on it this morning and give its pony truck some attention. Almost as soon as I turned it over on the bench this morning, I found what I suspect has been the culprit all this time. In a word, it's "dirt". The wheel treads had a fair bit of gunk on them – so much so that it was forming a fillet between tread and flange. This of course changes the shape of the tire, which throws off the whole wheel/rail relationship. I'm surprised it stayed on the track at all!
Fortunately, it was quick and easy to fix: I grabbed my handy graver and carefully scraped the gunk off the wheels. Only the two wheels on the pony truck were dirty, and the whole process took less than a minute. I ran the locomotive through the problem areas a half-dozen times this afternoon without any trouble.
I'm hesitant to say it, but I think I've finally fixed the problem.
Bob – great to see you and I hope you had fun. Apologies for the fussy locomotive – I really should've switched it out after the first sign of trouble. Come for another visit next time you're in town: We'll try another operating session, and dinner's on me!
—
Yes – Bob arrived at dinner time, so we went straight to Harbord House for food and drink. Bob had been to my house a few years ago – back when I was working in On2 – so it was a great way to catch up. And the braised pork belly with mashed potatoes and purple cabbage was delicious, especially when washed down with a pint of Conductor's Craft…