Chris Abbott visited yesterday and since it was one of the first really nice days of Spring, we spent the afternoon in the layout room. Well, we'd planned this get-together a couple of weeks ago and that's just the way it goes…
—
I've had some problems recently with derailments, so I invited Chris for a work session. The idea was simple: We'd run a couple of trains and look for problems. We wouldn't worry about prototype paperwork, proper switching procedures or any of the stuff that we employ during a normal operating session. Rather, we'd cover the line, using the "Mother may I?" method of dispatching and working through all the spurs and other secondary tracks in the process. If we found a problem – a repeatable problem – we would stop and fix it.
Having another person help me with this task would accomplish two things:
– First, Chris was a second set of eyes and fresh opinions about the nature of any problems.

– Second, I would be less likely to overlook or downplay a problem that would require a major rework. (An example of this might be the need to pull a switch point and fabricate a new one. I hate doing that – especially when working over finished scenery – so I'm more likely to wonder "What's on TV?" when I run into that kind of repair.)
The good news is, we each ran a train to the end of the line and back, working through various sidings – shoving and pulling cuts of cars – and only encountered one problem: A derailment during a backing move through the turnout in front of the Port Rowan station. What's more, we were unable to repeat the derailment. It could be an issue – or it could've been a bit of dirt or loose ballast in the frog. We don't know. But we left it alone and will keep an eye on that turnout in case it causes more trouble.
For now, it looks like I've managed to fix the derailment problems that were plaguing me earlier this year.
And while we didn't uncover any major problems, it wasn't a wasted effort: We had a lot of fun – not holding an operating session, but just "Running Trains"…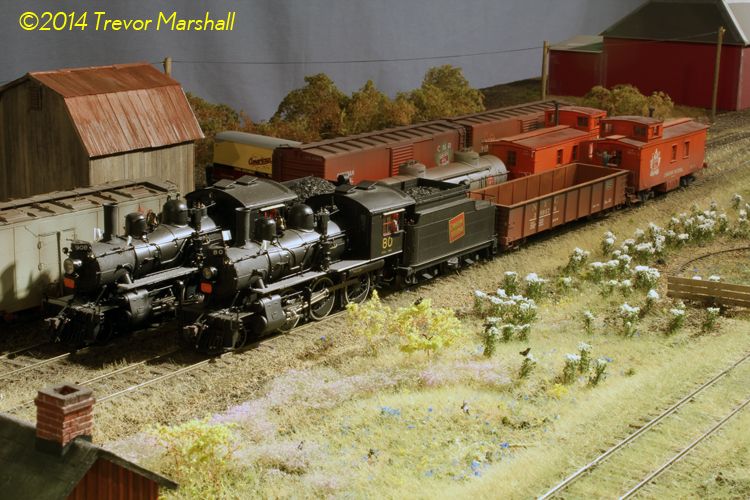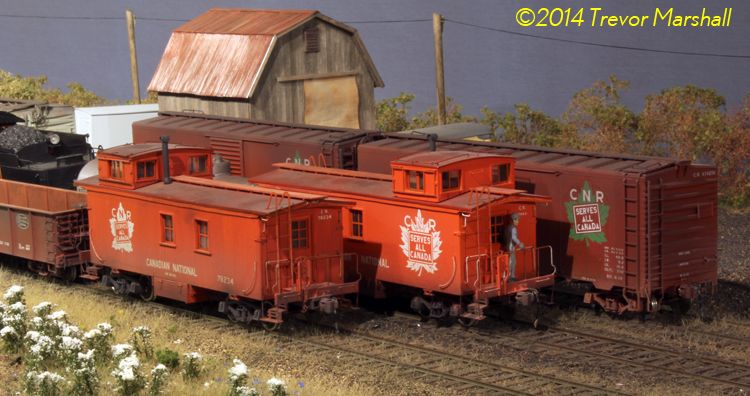 —
Chris and I did other things, too:
– We discussed plans for adding a hand crank to control the sector plate. Chris has been thinking about this since we built the plate, but many other things have gotten in the way and it's never been a priority for either of us. But Chris would like to tackle it now so he double-checked some measurements and has retired to his work shop to build the mechanism. Stay tuned.

– I solicited his input on some plans for future scenery projects in the Lynn Valley and I can now proceed with those. Again, stay tuned.

– We realized that Chris had never tried TouchCab – an app that allows one to use an iPhone or iPod Touch as a wireless throttle. He was impressed, and it was good for me to get reacquainted with the system. I'm going to make a point of using it more often.

– I introduced Chris to Night Train – a dark ale from Junction Craft Brewing. It went down very well.
—
My wife joined us as we wrapped up the day with a visit to The Caledonian – an always-fun Scottish pub. It's about a 20-minute walk from home but owners Donna Wolff and David Wolff always make the place feel like a second home – and the walk encourages one's appetite.
Sundays at The Caledonian mean a traditional roast beef dinner – and this Sunday was particularly special as The Caley celebrated Tartan Day. The whisky-tasting was sold out and the place was busy but Donna found us three spots at the bar. There were Highland Dancers to entertain the crowd – and we had three pours left in our bottle of Edradour Caledonia 12-year-old behind the bar, so it was all good.
(Thanks for the great day of work and fun, Chris – I look forward to the next one!)