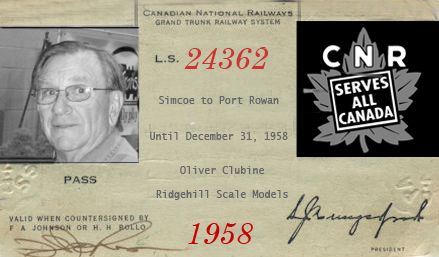 Sad news today – for me, for the other members of the S Scale Workshop and for the S scale community at large.
Oliver Clubine passed away at 6:00 this morning, just two days past his 77th birthday. He leaves behind his wife Sandra and son David – also an avid S scale enthusiast – daughter-in-law Laura, and grandchildren Conner and Abby.
Oliver was a founding member of the Workshop – and while he had been in declining health for several years because of a heart condition, he was always keen to take part in Workshop exhibitions and it was always, always a pleasure to see him. (His grandson Connor will be yet another generation of hobbyist too I'm sure: He's a keen and thoughtful operator whenever he joins the Workshop at shows in southern Ontario.)
On a personal note, Oliver is responsible, in part, for my participation in S scale. That's because his company – Ridgehill Scale Models – produced the beautiful S scale resin kits for the CNR cabooses I use on my layout:

Several years ago, I became associated with Oliver and the rest of the Workshop through my friend Chris Abbott. Chris needed space to work on a module and I had some space, so we did that at my place – and I picked up a Ridgehill CNR caboose with the thought that, one day, I might build a module of my own.
Then, a couple of years ago when I was tired of On2 and trying to decide what to model next, it was that caboose model that encouraged me to look at S as a possibility for a home layout. (Some consolation for S scale enthusiasts is that Ridgehill Scale Models was a father+son enterprise so it should continue to service the S scale community under David's direction.)
Oliver only got to see my layout once – a visit with David in January 2013 – but I remember it vividly. I'd set a stool in the inside corner of St. Williams and Oliver perched there while David and I worked a freight to Port Rowan and back. We thoroughly enjoyed the day and Oliver was so pleased to see my approach to the scale he loved. We also had an insightful discussion about the state of S scale in general – and of S scale resin kits in particular. (You can read more about that in my blog post, A Visit from Oliver and David.)
Oliver and I also put our heads together on the Port Rowan station and how to model it in 1:64. He had some good ideas about getting the windows right. And I'm sorry I won't have the opportunity to compare notes with him as I tackle that station – sometime in the future.
I'm really glad I knew Oliver. He was always a gentleman, and the best kind of person in this hobby. I'll miss him.