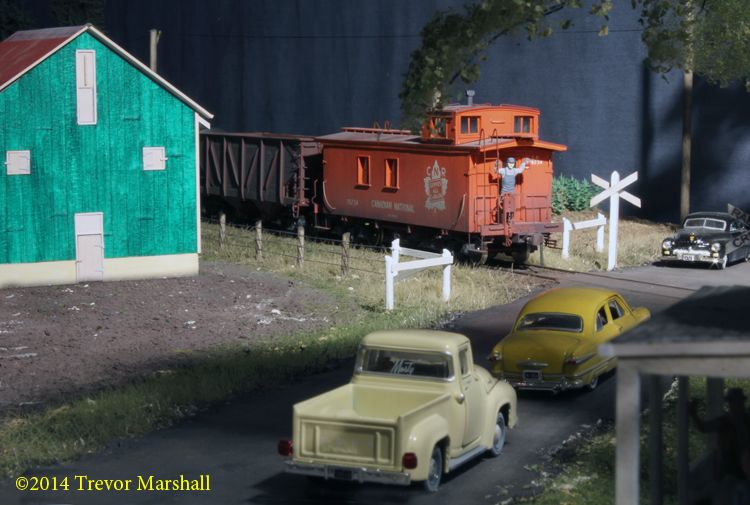 Last night, I hosted a mini-meet of the S Scale Workshop as three fellow members – including one who travelled quite a distance – paid a visit to my layout. And I received a lovely surprise, too…
For the past five years, Jamie Bothwell has been travelling from Pennsylvania to southern Ontario at this time of year to take part in the annual Paris to Ancaster Bike Race. He stays with our mutual friend Andy Malette – and this year, our calendars aligned and allowed the two of them to visit my layout. I invited Chris Abbott along as well, knowing that the four of us would have much to talk about.
It was a long day for me – one that included a morning sheep-herding lesson with my Border Collie, Mocean, followed by braving the weekend-long closure of a major highway in the Toronto area to attend the funeral for Oliver Clubine in Brantford. Normally that's a 75 minute drive, but it took about two hours due to traffic chaos. It was well worth the trip, however: The service was packed to overflowing with people from many aspects of Oliver's life. He was much loved and respected, and will be sorely missed.
Knowing that the trip home from Brantford would take a long time, we scheduled our gathering for 7:00pm. We started the evening by introducing Jamie to Harbord House – which has become a tradition for first-time visitors to my layout. Andy very generously picked up the tab – thanks, Andy!
In the layout room, I gave a quick update to my guests on recent projects and some future plans. Then Chris and Jamie formed a two-person crew – handling conductor and engineer duties, respectively – and we set to work. (I had a second train ready to run in case Andy wanted to get some track time, but he was happy to just – as he put it – "Drink it all in".)
After a number of problems during operating sessions, the layout ran perfectly last night: no derailments, no stalls. I assumed that Chris had worked the conductor's position more often than he had, so it was good for him to get some experience with the paperwork and I'll be sure to give him more opportunities in the future. Jamie has DCC experience, but was new to Lenz. However, he picked up the throttles very quickly and was running Mogul 80 like an Old Head by the time the session wrapped up. A fine time was had by all.
As for the lovely surprise…
Jamie reads my blog and he was taken by my work on modelling tobacco kilns, and he liked my blog posting about sending thank you notes to layout hosts. So he put his talents to work and presented me with a lovely watercolour as a thank you for letting him visit. I found a place for it in the kitchen this morning – in a high-traffic area where I'll get to enjoy it several times every day:

Jamie called his painting The Right Number, after the thinking behind my decision to model three kilns on the tobacco farm in St. Williams.
Thanks so much, Jamie: What a treat! I hope today's race goes well for you and I look forward to a return visit. Andy, Chris – great to see you both, as always. Perhaps we can make this an annual event…