Those are three words to describe my Border Collie, Mocean, after we've been out for a sheep-herding lesson – particularly at this time of year, when rains are frequent and the ground is muddy. As it was on Wednesday…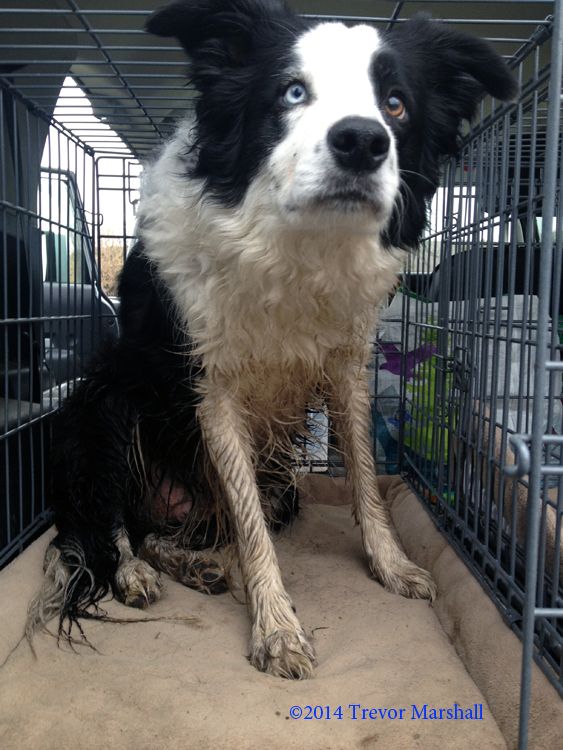 "That's a nice story – and a nice picture of your dog," I imagine you're thinking. "But what does that have to do with your model railway – which is, after all, the subject of this blog?"
Good question.
Sometimes, the same adjectives can have totally different connotations. Sometimes, "dirty, wet and smelly" can describe something positive – like my dog, who worked really hard and did a great job for me. And sometimes, it can describe something negative.
Like the main sewer in our home. Which clogged up this week.
And that has a lot to do with my layout, because the floor drain is right at the end of the Port Rowan peninsula. The sewer pipe runs from here to the front of the house – passing right under the peninsula, and below the west end of St. Williams.
There was no flooding – but the drain is slow. Very slow – to the point where we're limiting the amount of waste water we're generating so that the basement doesn't flood.
I had the plumber in today to look at matters. Fortunately, there's good news: The power snake got all the way out of the building and under the front garden before it ran into something it could not clear. So, the digging – which should start tomorrow – will all take place outside.
It'll be expensive – all things that involve digging are. But the worst-case scenario was a bad blockage inside the house and a need to tear out the layout so that workers could pound their way thorough the cement floor and lay a new drain. So yes, this is actually good news. (Treating a plumbing disaster as "good news" – because at least the layout is safe – is just one more reason why model railway enthusiasts are a special breed.)
Barring any delays or surprises, we should soon return to normal: Where the only thing dirty, wet and smelly underfoot is a hard-run Border Collie.