Given that the past few days of dealing with the drains at home pushed my stress level into the red, I took the day off yesterday. I loaded up the dogs and the camera equipment and the three of us drove a couple of hours to the south west so that we could take a long walk in the Lynn Valley.
Well – I walked: The dogs snooped about as dogs will do when on lead in unknown territory, then worked off some energy when I set them loose on a long straight section of the rail trail, where any oncoming cyclists would have plenty of time to see them and avoid a collision:

It's only my second time to the Lynn Valley and it was ideal for picture-taking. It was partly cloudy and the trees have not yet come into leaf so I was able to really see the contours of the land and how the forest and river related to the long-gone railway.
In some locations – such as the area captured above – the trees form little more than a windbreak and thin visual barrier between the roadbed and the adjacent fields. It's likely few trees were in this location 60 years ago. And that makes sense, as the Lynn River and the railway have drifted apart in this area. The river is behind the trees at left in the distance.
In other locations, the trees are quite thick – especially where the river and railway run closer together, as in this photo: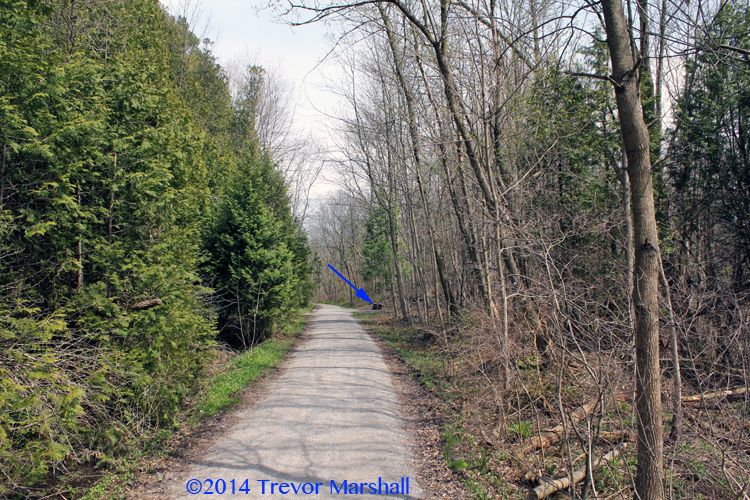 This was taken to the north of what's known as "Burt Bridge" – a trestle similar to the one I've modelled. (My trestle is based on one that's known as "Robinson Bridge", further south on the rail trail.) I'm facing south – with the river just out of view to the right – and the arrow points to what I believe is the location of long-gone Lynn Valley water tank.
If one is standing at the arrow, there's a hill to the left of the roadbed. A vigorous stream runs down this hillside, then disappears and emerges from a pipe next to the roadbed: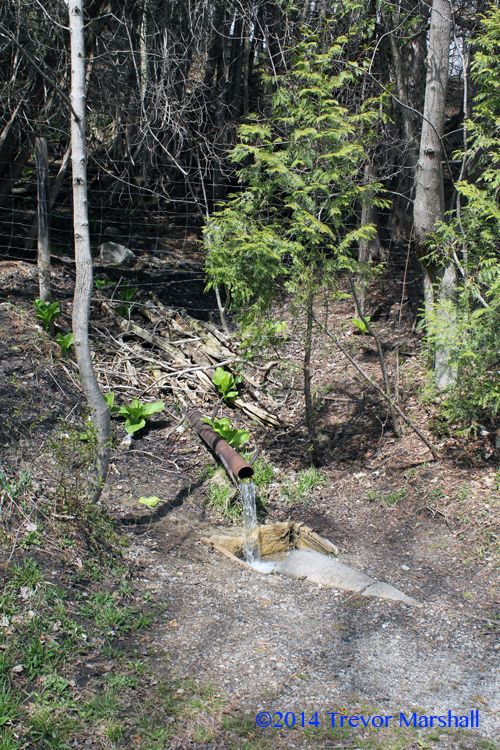 The water splashes into a well-worn basin, then runs through a concrete pipe under the roadbed:

On the right side of the roadbed – where the tank would've stood – the stream emerges and runs through a channel before emptying into the Lynn River (which can be seen between the bases of the trees at right):

(I wonder: Can anybody confirm that this is the spot where the water tank once stood? Use the comments function, and thanks in advance!)
It was a beautiful day – just what I needed to clear my head of this past weekend's plumbing problems. And I came back from the Lynn Valley with plenty of ideas for the layout. Stay tuned!