As mentioned yesterday, while building the setoff near the Lynn Valley water tank I also started work on crafting a speeder to put on it. Today, I finished the speeder and set it in place on the layout: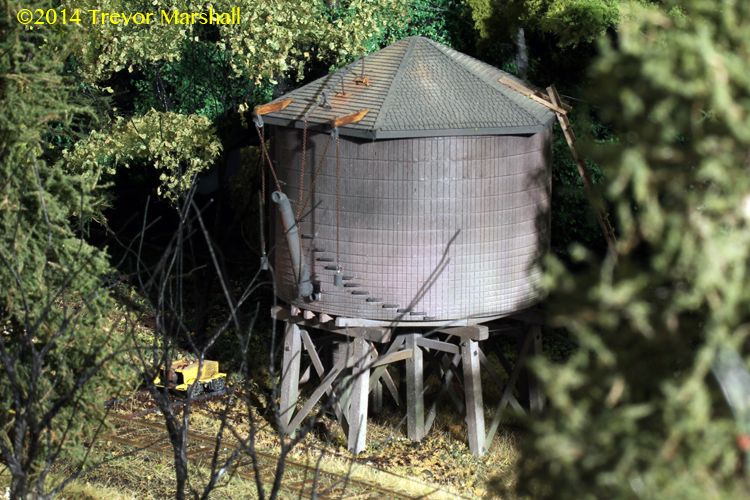 To the best of my knowledge, there are no kits currently offered in S standard gauge for a speeder. So I started with a white metal kit for an Sn3 model, Kit T-2220 offered by Wiseman Model Services. When I ordered the kit, I wondered whether it would be a simple matter to substitute longer lengths of wire for the axles – but the prototype on which the kit did not accommodate that. Therefore, I cut apart the white metal frame and substituted appropriately-sized styrene strip to widen the speeder.
This required building the kit in a different order than given in the instructions. I assembled the frame sides and fenders for each side, then added the axles and wheels – properly gauged – and then connected the two sides with styrene strip. For the top deck, I used the white metal deck casting, but glued scale 1″ x 8″ boards on top. Where the original Sn3 deck had three boards, the new S-std deck has five. I stained these boards and painted the speeder body a mix of bright yellow and warm black. Weathering powders gave it a well-used look:

The shovel was included with the speeder kit. The pipe wrenches are beautifully rendered in photo-etch, and part of the Hand Tool Set (Kit 102) from TractorFab. I thought they would be appropriate for a job call to the water tank.
Since this is in the middle of nowhere, relatively speaking, a speeder could not have been left here unattended so I will search through my supply to find a suitable figure to represent the CNR employee who drove it here. He can lean against the water tank to provide a roll-by inspection, or be working on something on or around the tank. A tool box would be a nice addition, too.
The speeder is a subtle detail on my layout. It's a bright speck of yellow, mostly obscured by trees: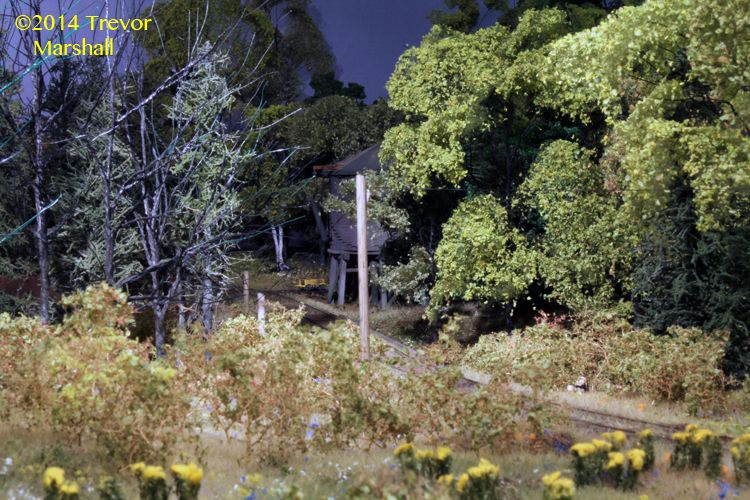 But while it's difficult to photograph because of the trees, it will be easy for visitors to spot and appreciate – providing they're looking for such details.

—
I like to build vignettes for people to discover – providing such vignettes are realistic (in the sense that they convey an authentic sense of life in the place and era I'm modelling). I love the idea of rewarding careful observation of my layout – and the little yellow speeder does just that in a way that (I hope) isn't hokey or contrived.