Well, it took a few months – but yesterday I finally got a start on the CNR snow plow project I introduced back in mid-December.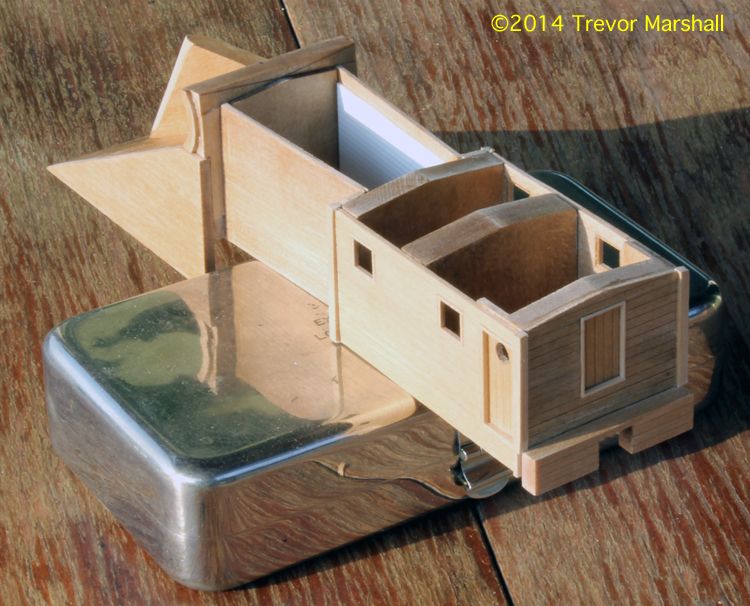 The weather was perfect – I worked on the deck and was able to do two coats of Scalecoat Sanding Sealer on all wood pieces, with time to lightly sand after each coat using a fine emery board. I was also able to assemble most of the basic body before dinner. It's starting to look less like a box of wood, and more like a plow:

A couple of the thinner wood sheets – used to form the body at the narrow point behind the wings – had warped after spending 60-something years in the kit box. (Who wouldn't?) I therefore strengthened these with some pieces of 0.040″ thick styrene sheet glued to their backs with CA.
Other than that one issue, the kit is going together really nicely, with few surprises. I'm impressed at the skill that went into fabricating the pre-shaped pieces such as the bulkheads inside the car body. And while the kit required me to shape the pointed edge onto the spine that supports the plow blade, in the end I loved carving and sanding this piece to shape.
Building a vintage kit like this requires a different set of skills than assembling today's state of the art laser cut wood kits and it's great to exercise those skills.
The real challenge comes next: Forming the plow blade from a sheet of tin supplied with the kit. The sheet is pre-marked with cut and fold lines, but it'll still take some careful fettling to do a good job. I'll save that for a day when I'm feeling really confident…
—
(As an aside, this marks my 800th post to the blog. Thanks, everyone, for coming along for the ride. I'm really enjoying this!)