I'm making great progress on my Ambroid snow plow project.
As the photos show, I've formed the metal plow blade and applied it to the supporting structure. I was really worried about doing this step, although comforted that the instructions note that if you mess it up, Northeastern Scale Models will replace the pre-marked tin sheet free of charge. The company will even send the modeller a cut and folded plow, ready for installation, for the princely sum of 50 cents. Of course, the offer is several decades old now…
I was tempted to take Northeastern up on the offer – nothing ventured, nothing gained, right? But in the end I dove in and Just Did It. The trickiest part was rolling the edges where they meet the back of the plow body, but I found a large diameter tube in my collection of brass shapes and used that to support the edges as I rolled them, and that seemed to work just fine. I ended up with a few wavy bits – but plows would've taken a lot of abuse so they're not out of character.
I realized I would have to paint the plow in steps. For example, I painted the plow body so that I could add the window glass and then install the roof. (Going forward, I will have to paint the cupola parts and wings before I install those items.)
I've equipped the plow with arch-bar trucks from Iron Road Models, fitted with NWSL fine scale wheel sets. I think they give it a real "not for interchange" look: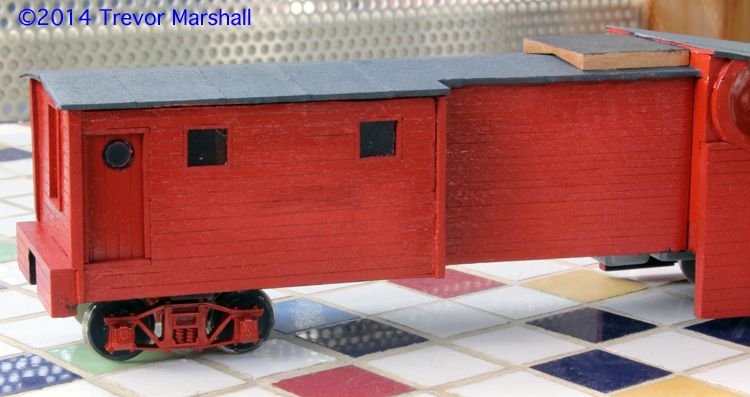 I'm really enjoying this project – in part for the problem solving that I've been forced to do. The instructions provide all the information one needs, but assume a degree of knowledge or common sense about how to approach the work. It's refreshing, and rewarding.
I am proud that I thought to paint the plow and install window glass before fixing the roof in place. But I'm feeling a bit sheepish that in my enthusiasm to get the roof on, I completely forgot about adding weight inside.
No matter – I simply attached some weights underneath:

The weights will be well hidden by the time I get the wings installed.
Speaking of which, the wings are next. I'm going to deviate from the kit and build some wings that better represent those I see on some pictures of wooden CNR plows I have collected. Stay tuned…