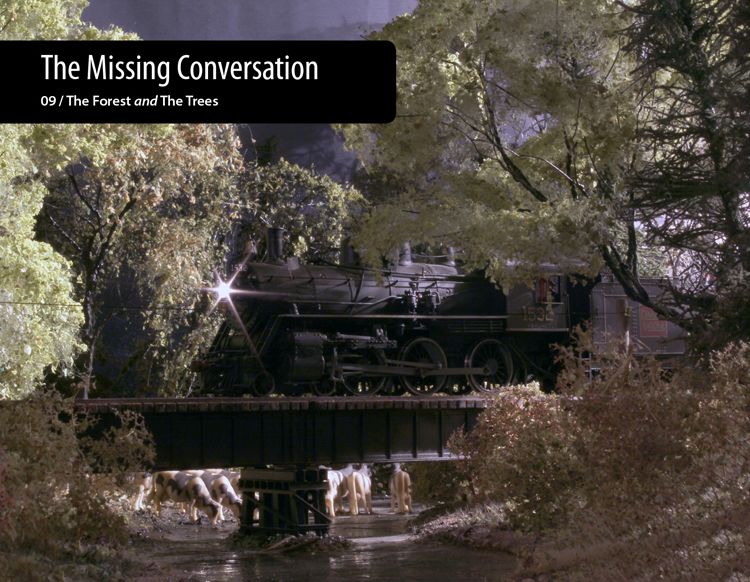 My friend Mike Cougill publishes a really neat, quarterly digital magazine called The Missing Conversation, in which he uses his talent and insights as an artist to help people learn how to see – really, really see – various details that we add to our layouts: everything from trackwork to trees.
The current issue – now on sale in the store at the OST Publications website – is all about trees and forests, and what to look for when trying to model them convincingly.
As Mike notes on his blog, many modellers consider trees and other scenery elements to be "just filler". I think that's a shame because here's the reality-check about our hobby:
Most of the people who visit our layouts have no clue whether we're doing a good job of modelling locomotives and rolling stock. Even those who are lifelong hobbyists would have to be familiar with our chosen prototype, era, and location…

… but everybody knows what a real tree looks like.
Well-done, realistic scenery does more than the trains themselves to convince people that our hobby is an awesome, worthwhile pursuit.
Mike likes my trees, and asked me to contribute an article about how I use them on my layout. I was happy to do so:

I should stress that my contribution is NOT a rehash of the material I've covered on this blog.
Instead, I explore some of the design challenges I faced on this layout and how I was able to use trees effectively to overcome them. With all-new photos – including many from a walk I took along the Lynn Valley Rail Trail earlier this year – I discuss how I balance three objectives that are sometimes in conflict.
These are:
– The influence of my prototype

– The practical constraints of my layout and the room in which it's built

– The story I'm trying to convey through my modelling to both casual visitors and regular operators
What I do not cover is how to build a tree.
Mike and I discussed this at length, and we feel that Gordon Gravett has written the definitive books on this subject. (I've written a lot about Gordon this blog -so if you want to know more, type "Gravett" into the search box on the home page and have a shufty through the results).
Instead, Mike and I hope that this collaboration – 72 pages about trees, forests and layouts – builds on the excellent work that Gordon has done.
Mike did the heavy lifting on this volume, as he always does. He explores how a real forest grows and then focuses his artist's eye on four common North American tree varieties to help teach readers how to really see a tree – which is the first step towards modelling one effectively.
I had so much fun working on this feature that I shot a some video and put together a short movie to give potential readers a better idea of what I cover in my portion of The Missing Conversation / 09 : The Forest and The Trees. Enjoy if you watch, and after you do I hope you'll consider heading to OST Publications to buy a copy…

(You may also view this directly on YouTube, where you may be able to enjoy it in larger formats)
Thanks again for the opportunity to work on this, Mike. It was great fun!