(The first operating session using equipment fitted with Sergent S scale couplers)
Having installed Sergent Engineering S scale couplers on several pieces of equipment this week, today I set aside some time to run my first operating session with them.
Overall, things went very well. Not perfect – but it was a great start.
My Sergent-equipped roster includes a 10-wheeler, a full-length (90-foot) combine, and several freight cars of various types, lengths and weights. I ran a mixed train with a locomotive, a boxcar for St. Williams, a hopper car for the ramp track in Port Rowan, a boxcar in LCL service, and the combine. I placed a refrigerator car in the team track at St. Williams and a boxcar at the head end of the team track in Port Rowan – both to pick up.
This selection would require me to run through all turnouts and do a fair bit of shuffling of cars into the proper order, so it would be a good workout for the couplers.
First, the great news: uncoupling is flawless – better than with the Kadee 808s. I simply held the uncoupling tool over the couplers and they parted like magic. I could do this by inserting the tool straight down between the cars, or in from the side.
Next, the good news: for the most part, coupling was flawless too. A couple of times, I did not have the couplers lined up correctly. And a couple of times, I had them close – close enough that the faces met, but not close enough that the knuckles actually closed.
That said, I realized the biggest challenge to lining up couplers correctly was insufficient light between the cars:

The 12v halogen landscape lighting system I use to illuminate the layout casts strong shadows – which is great for setting the mood, but poses problems for seeing couplers. The eyes aren't any younger, either.
Mine is not the only layout that faces this challenge and for a potential solution I'm borrowing a tool that works – brilliantly – on many layouts on which I've operated: I've strapped the uncoupling tool to a pen-light: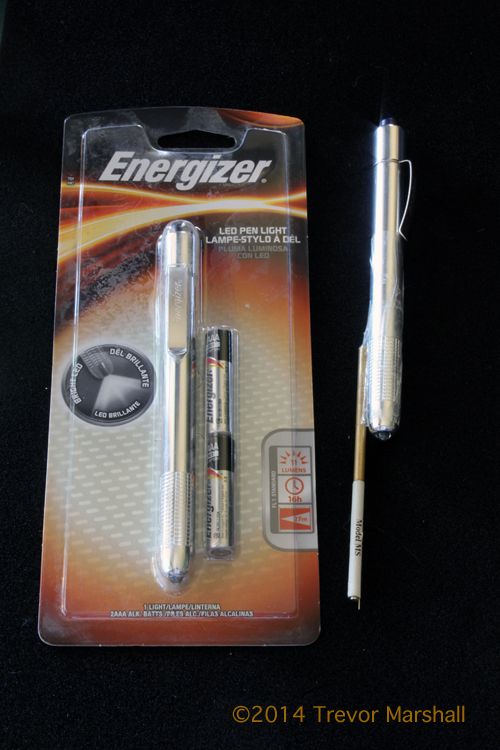 I'm not sure I like this particular pen-light but my local hardware store has several styles and they're all fairly inexpensive so I'm sure that if I don't like this one, I'll find one that works. Once I'm happy with my lighting choice, I'll do something about that awful packing tape. I'm sure I can come up with a tool that's more professional looking and nicer to the touch.
Regardless, I can't argue with the difference such a tool makes:

I'll continue to experiment with the Sergent couplers in future operating sessions, but in the meantime that's the first in the books – and as first sessions go, it went just fine. I'll look for improvements in my use of these couplers in future sessions – and report my findings on this blog.