My friend and neighbour David Woodhead was interested in a couple of things I've written about recently on this blog and elsewhere, and he wanted to experience them first-hand. So yesterday I put on a big pot of coffee and he dropped in for a visit.
First, David wanted to know more about TouchCab – an app that interfaces with the Lenz DCC system to let one use an iPhone or iPod Touch as a wireless throttle. I've written about this before on this blog, but David – who also uses Lenz DCC – hadn't had a chance to try out the system.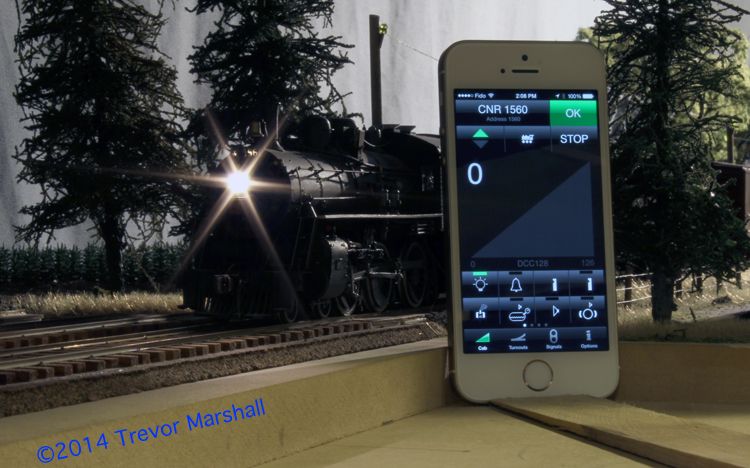 (An iPhone makes an awesome throttle)
I was really pleased David's interested in this, as I tend to not use the system as much as I thought I would when I first installed it. There's nothing wrong with the system – but I also have Lenz wired throttles and they've always done a fine job for me so I tend to reach for those first.
So, David's visit was a great opportunity to get reacquainted with TouchCab. And I'm going to have to use it more often. I was pleasantly surprised at how intuitive the interface is and I was able to use it with confidence in almost no time, and with no need to refer to manuals. I will need to keep this in mind for future operating sessions. It'll be nice to cut the cord.
—
The second thing David wanted to know more about was my experiments with Sergent couplers. We ran a train (the one seen in the above photo), and switched a fair number of cars in Port Rowan. The work included swapping two cars on the elevated coal track, which is the least accessible track on the layout.
The Sergent couplers worked fine. We had a few issues that were related to human error – namely, not checking that knuckles were open before trying to couple up. Those will resolve themselves as I become more comfortable with the couplers.
We were both impressed by how little slack there is in these couplers: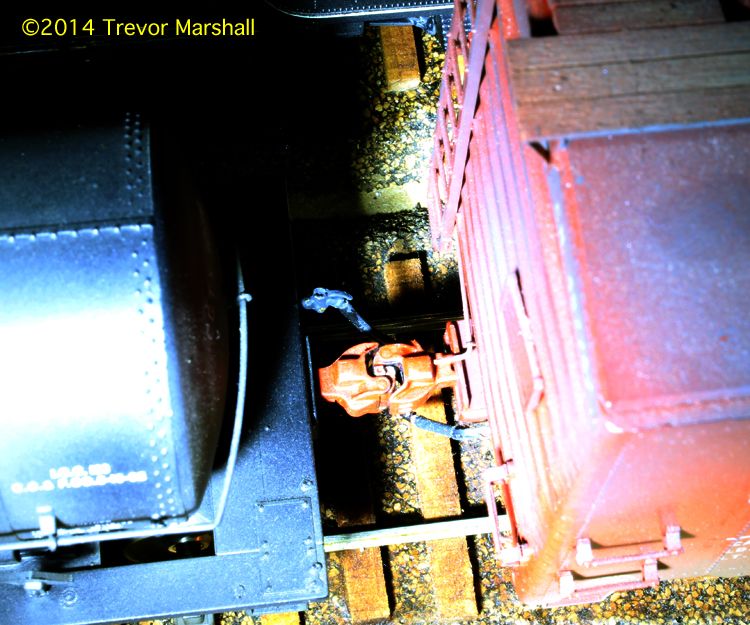 A train of a half dozen cars has about as much slack as two cars with Kadees – and that's after modifying the Kadee couplers to remove slack action in the draft gear.
—
Finally, I took advantage of having a second set of eyes around to investigate why one of my passenger cars was derailing near the west siding switch at St. Williams. David and I determined that it was a tight gauge problem near the headlocks, which was forcing the troublesome bogie to ride up and over the rail.
After David left, I grabbed the track-working tools and made some adjustments. I appear to have solved the problem – further tests will tell.
Thanks for dropping in, David – it was great to see you as always, and the layout is better for it too!