(Red Ball fast freights meet at Jarvis on Pierre Oliver's Wabash layout)
I had a great time yesterday – socializing and running trains at Pierre Oliver's place as a busy layout operating week continued. Following last Sunday's ops session in which Pierre, Thorsten Petschallies and Chris Abbott descended on the Port Rowan branch, I joined Thorsten, Mark Hill and Don Janes at Pierre's place to put Pierre's HO scale Wabash Railroad Buffalo Division through its paces.
Pierre models a much larger chunk of reality on two narrow decks in his layout room, and it's a much busier session than my one-train-per-day effort:


(Eastbound Red Ball fast freights at Renton (top deck) and Aylmer)
Pierre's layout is operated via time table and train order and it requires a crew of four or five to move all the trains, so this is just the second full operating session we've held (and the first for Thorsten, Don and Mark). Fortunately, it's not a jam-packed schedule – not yet – so there's plenty of time to sit and socialize between assignments.
As Pierre's regular operating crew becomes more comfortable with the operating scheme and we shake the gremlins out of the system (there are always gremlins when a layout first goes from "building" to "running") there's plenty of opportunity to add more trains in the form of extra freights and advance sections for the scheduled (third class) Red Ball freights.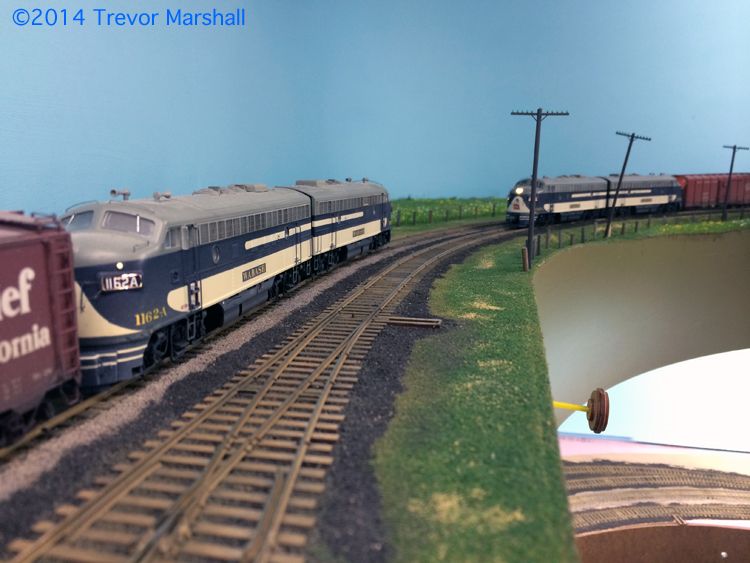 (The concentration in the room is so thick you can cut it with a knife: Mark (l), Don and Thorsten keep close eye on a meet at Jarvis)
I had a great time. It was fun to catch up with Mark and Don, and expose Thorsten (who is a friend of ours from Germany) to another example of southern Ontario prototype railroading. Pierre made some notes and I know I'm going to be doing some more work on his time table in the days ahead. But I'm already looking forward to the next operating session.


(Gremlin stomped: Pierre packs away the test rig after debugging a turnout at Simcoe)
Well done, Pierre – and thanks for having us over!