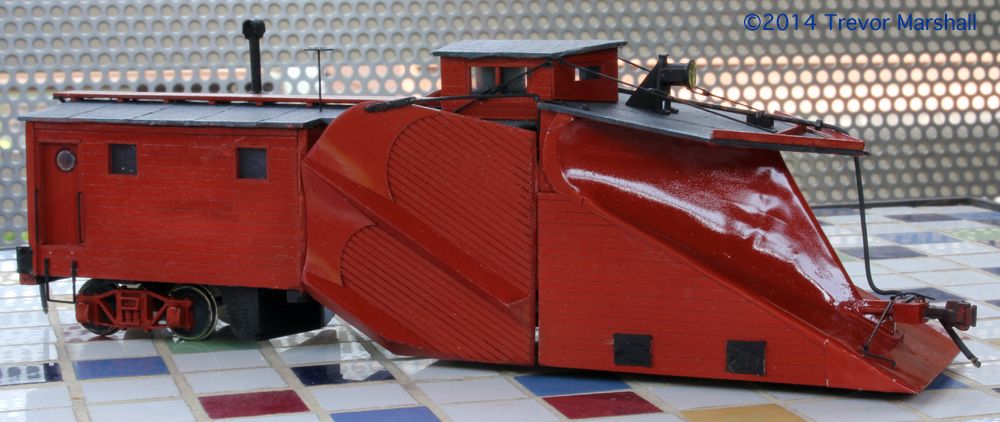 Last night I finished adding details to the snow plow I'm building from a vintage Ambroid kit. Here's a look at what I added…
—
The coupler cut lever is a piece of 0.015″ phosphor bronze wire bent to shape and mounted with a pair of Details Associates eyebolts. Also note that I've added some dark rust (Colour #302 from the Vallejo Panzer Aces paint line) to the couplers to tone down the primer colour I used to paint them.
—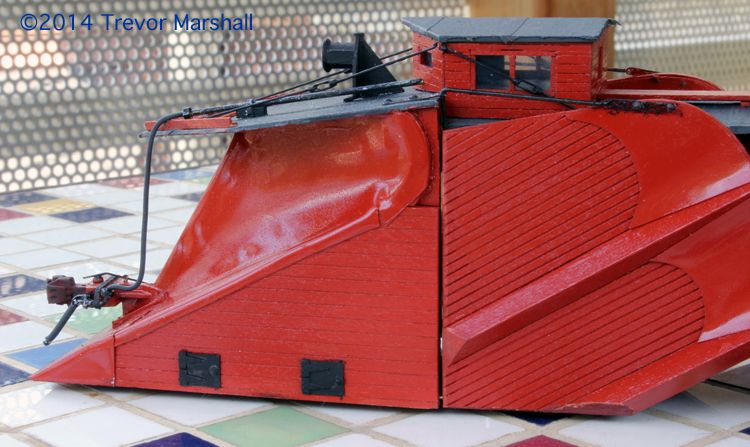 Following photographs, I've added access hatches to the side of the plow body to allow crews to oil/grease the front wheels. I cut some squares of 0.010″ styrene and glued them in place lined up with the journals on my arch bar truck. I added a strip of the same styrene next to the leading edge of the squares, so I could mount a pair of Tichy Train Group HO scale triangular hinges (part #3067). To represent a latch, I also added a NBW casting to the trailing edge of the squares. I don't know the part number – they came from my miscellaneous NBW drawer.
—
The stirrup steps have an interesting back-story: When I worked in On2, the Maine two-footer kits I built came with a number of O scale parts for three-foot gauge prototypes – simply because correct two-foot parts were not available back when these kits were manufactured. On3 stirrup steps were far too tall for two-foot equipment (which rode a lot closer to the ground) so I would scratch-build my own stirrups.
I didn't throw away all of the On3 details, though – and managed to find a pair of them that would be suitable for my S scale standard gauge snow plow. I compared them to the kit drawings and they worked just fine. I suspect these came from Grandt Line but I don't know the part number.
—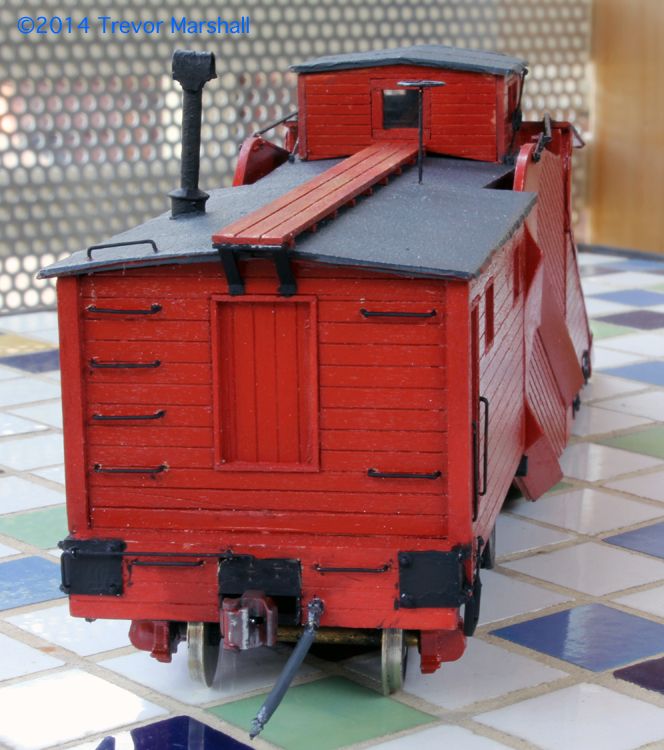 The drawings in the kit showed some metal corner pieces with large bolts through them, so I fabricated these using styrene strip. Rather than bend the strip, I cut pieces over-length and glued them to the sides of the end sill, then butted more pieces up to them at the back. I then trimmed the side pieces to length and used a file to round the corner.
I cut and bent the various hand grabs and the cut lever from 0.015″ phosphor bronze wire, using a Mission Models Grab-Handler to get consistently-sized grabs.
I used some styrene strip to fabricate the support for the end of the roof walk.
—
That's it for detailing! Next up, I will letter the plow using some CNR boxcar decals from Black Cat Publishing, then do a (fairly light) weathering application to represent a plow that's been recently shopped and prepped for the coming winter.