S is a minority scale – not many of us work in it – so it sometimes takes some explaining to those who are not familiar with it. I think a photo can convey a lot of useful information about the relationship between S and HO – and where each scale has its strengths – so I took one: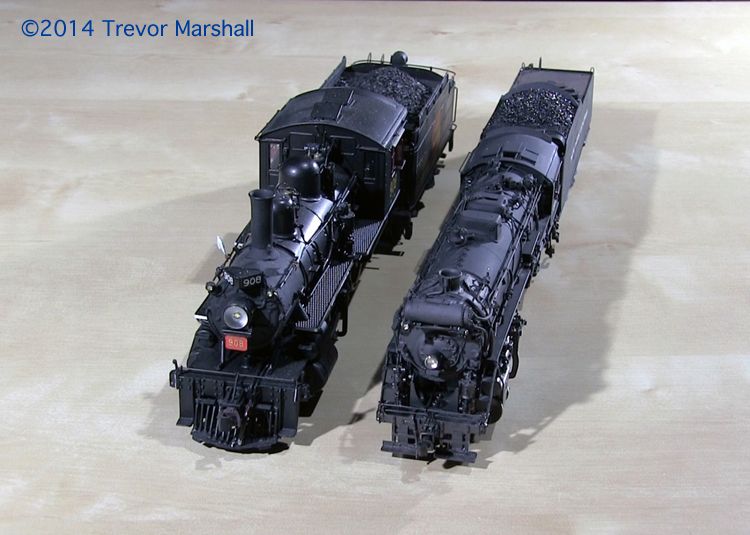 At 1:64, S is 36 per cent larger than HO – in each direction. For me, what this means is that S is an ideal scale for building models of smaller prototypes, such as the CNR Mogul at left. This S scale 2-6-0 is roughly one foot long – or about the same length as the HO scale New York Central 2-8-2 posed with it.
From a model-building perspective, this means that the CNR 2-6-0 – which would be darned tiny in HO – is a decent size in S scale. Many HO scale models of these small locomotives look great, but run terribly. But in S, there's space in that boiler for a decent-sized motor, there's room to thread wires to extra electrical pick-ups, there's an opportunity to add a decent amount of weight, and so on.
In fact, there's arguably more space, because S scale models are taller and wider as the photo shows. The space advantage also applies to tiny details such as the lights and number boards – which are easier to illuminate in S simply because there's more space for LEDs (or lamps) and wiring.
At the same time, this small S scale steamer requires roughly the same standards on a layout as a medium-sized HO steam locomotive. Turntables, storage tracks, tails for run-arounds, and so on – if an HO Mikado will fit, so will an S scale Mogul. The 2-6-0 will demand a larger minimum radius – in part because the equipment it pulls will also be larger, and will look better on broader curves. But it's also likely to pull shorter trains than a 2-8-2, so the actual train lengths – and therefore the space taken up on the layout by staging, yard tracks, sidings and so on – may work out to about the same.
Since I like small steam prototypes, S scale allows me to enjoy them while also enjoying the presence and performance benefits akin to well-detailed, well-tuned, medium-sized HO scale steam.
(Thanks to my friend Pierre Oliver for the loan of this locomotive to help illustrate this post!)