One of the stories I hope to convey with my layout is that branch line railroading in southern Ontario is in decline in the period that I model. That means I need to represent the things that killed it.
One of the big killers was the rise of reliable highways and the trucking industry. I recently lettered a pair of CNR trucks and while sorting through my decals I found several sets I'd acquired to letter some of the other transports on my layout. Since I had the decals and tools to hand, I decided to finish these trucks.
It wasn't as straight-forward as it sounds.
In October of 2012, I acquired several die-cast trucks for the layout. These days, most die-cast trucks come in novelty paint schemes for various consumer brands – and my trucks were no exception. The worst offender was this one: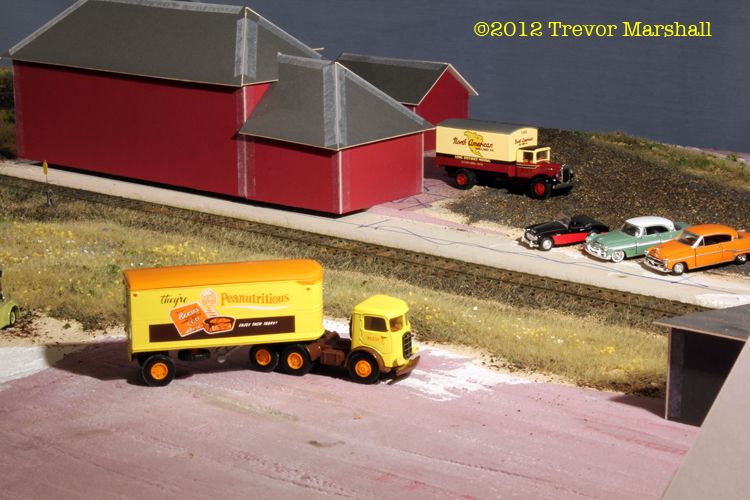 "Peanutritious"? That had to go – and fast. I hauled out my airbrush and sprayed my truck collection in various solid colours, then brush-painted the tires and various other details:

So far, so good. But when looking through my decals, I realized I had nothing to go over a green truck – and here I was with two of them. More airbrushing ensued. These two trucks were re-done in red. While I was at it, I did a third truck with an aluminum trailer and navy blue tractor – again, based on colour schemes in my decal assortment:

Again, I picked out the details with a brush. Then I got down to the business of lettering my fleet of railway freight killers.
I wanted lettering for prototype trucks from southern Ontario, from the 1950s. There's nothing like that in S scale, but Black Cat Publishing does have several sets available in HO. Much to my surprise, they worked really well for my S scale models. (In fact, I have a hard time believing some of these decals would fit on HO scale trucks.)
The "Peanutritious" truck looks much better now that it's been lettered for Husband Transport, using set HU#1:

I lettered the second red truck for Direct-Winters Transport, using set DIR#837 – while the blue/aluminum truck received a set of Smith#1 for Smith Transport:

These trucks add a nice dash of local colour to Port Rowan – even as they remind visitors that trucking will eventually steal away the railway's freight and express business in this small branch line terminal.